On the Kenai Peninsula, District 31 Republicans have passed a resolution censuring Sen. Lisa Murkowski for her actions in the impeachment hearings against former President Donald J. Trump.
That district isn't the only one. There are several others that have either passed similar resolutions or that are in the voting process.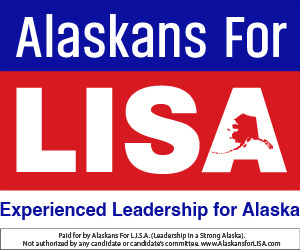 Districts 3, 8, 9, 11, and 12 have passed similar censures, and Districts 7 and 10 are in final vote. Both of the Mat-Su Valley Republican Women's Clubs are working on resolutions or censures.
[Note: District 26 has also passed a resolution.]
The other six senators who joined Murkowski in voting to convict Trump were Sens. Bill Cassidy of Louisiana, Richard Burr of North Carolina, Susan Collins of Maine, Mitt Romney of Utah, Ben Sasse of Nebraska, and Pat Toomey of Pennsylvania. Ultimately, the conviction fell short of the votes needed by Democrats to finish Trump off.
On Saturday, the Executive Committee of the Republican Party of Louisiana censured Cassidy.
On Sunday night, the North Carolina Republican Party was taking a censure vote Burr.
Utah Republicans are passing around a censure resolution targeting Romney for "his personal and political vendetta against President Donald J. Trump ahead of the Constitution of the United States, the interest of We, the People, and the advancement of the Republican Platform."
Toomey has been censured by multiple county Republican districts in Pennsylvania.
But of the seven, only Murkowski is standing for reelection in 2022.
The Alaska GOP State Central Committee meets in mid-March in Anchorage. Word is that the districts leading the censures of Murkowski will bring their efforts to the State Central Committee for a statewide vote.
In 2018, Murkowski donated $10,000 from her campaign war chest to the Alaska Republican Party (she was not running that year). In 2016, she gave $398,976 to the state party, according to opensecrets.org.