MEANWHILE, IN HOMER THEY TOOK OVER GOVERNMENT PROPERTY
The Recall Dunleavy Committee says it is asking the Division of Elections if it can continue to gather signatures from Alaskans out of state. Must Read Alaska has reported that four states are now sites for petition booklets to recall the governor, even though that practice is illegal.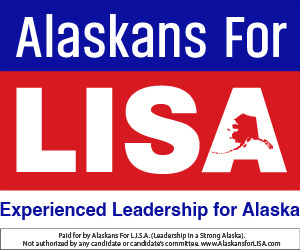 [Read: Fourth illegal recall petition site pops up in Palm Springs]
GOVERNMENT PROPERTY ELECTIONEERING?
A woman standing in the entry of the Homer Post Office on Saturday with a petition to recall Gov. Mike Dunleavy was asked to move along by postal workers after a complaint was lodged against her for breaking a federal law prohibiting "collecting signatures on petitions, polls, or surveys."
Recall Dunleavy has conducted extensive training for signature gatherers around the state in recent days, but may not have given its paid contractors guidance on federal property.
After resisting for a while, the woman moved off the property, but she had collected several signatures during the time she was there.
Around Alaska, reports of petitioners using government property to collect signatures is becoming widespread. In rural areas, post offices were abused during the initial application stage, but there was never any pushback. The pattern appears to be repeating for the group that is trying to gather over 71,200 signatures so they can put Gov. Dunleavy back on the ballot for an up-down vote.
During the middle of the day on Saturday, the Sullivan Arena kick-off signature gathering in Anchorage was sparsely attended, while nearby crowds gathered for Fur Rondy races and other related festivities.
The arena has been rented by the well-funded Recall Dunleavy Committee to make access easier for those in Anchorage to stop by and sign a petition. But over the course of ten minutes of observing, only two people went in the front door.
In Juneau, signature gathering was reportedly brisk at the Mendenhall Library, while downtown at the Juneau Arts and Humanities Council, a woman sawed a totem of Gov. Mike Dunleavy in half as"Cutting Him Down to Size" performance art.