WHOEVER IT WAS, THE OPPOSITION WAS READY
The national Women's March organization accidentally showed its hand by releasing a statement with a "fill-in-the-blank" spot for whomever President Donald Trump nominated to the Supreme Court.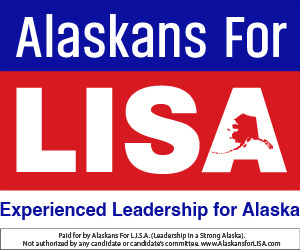 They may not have known who the pick would be, but they are definitely opposed, according to the Women's March Twitter feed, which got too far over its skies yesterday. Some intern just got demoted for the mistake:
Meanwhile, the radical left was ready in Anchorage to oppose any nominee, with a pre-planned protest in front of Sen. Lisa Murkowski's offices in downtown. They were rallying before the announcement was made because, according to Shoshanah Stone of Indivisible Anchorage, "all the nominees SUCKED."
Sen. Dan Sullivan also has offices in that building, but the Left is continually targeting Murkowski, who is seen as more likely to be swayed by their efforts.
Indivisible Anchorage held signs that were professionally printed in advance, announcing, "WOMEN WILL DIE," and their social media post was telling when it said they rallied "to Reject Trump's Extremist Supreme Court ##SCOTUSpick Roe, Healthcare, and more are #WhatsAtStake We can't let up Alaska! Call Murkowski to stop the #KavanaughSCOTUS 202-224-6665."
All that may backfire on them, as Murkowski was quoted by the Anchorage Daily News saying, "I'm a little annoyed that some of my colleagues, even before the president laid down Judge Kavanaugh's name, had already determined that they were going to vote against whomever."
But the protestors were undaunted in social media. The group was using a pre-designed propaganda piece that it released the moment Brett Kavanaugh's name was announced: