ALASKA FORMER GOVERNOR ON LIST OF 'FRIENDLIES' TO CHINA?
Secretary of State Mike Pompeo told the National Governors Association on Saturday that China is looking to infiltrate the states, and will work insidiously to undermine American values.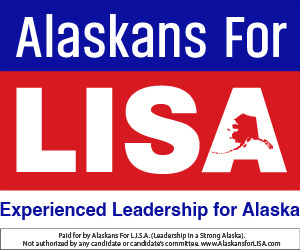 Pompeo was one of the keynote speakers at the association's winter meeting in Washington, D.C. He warned the governors that when they consider allowing Communist China to invest in their states, caution is advised.
Pompeo referred to a letter from a Chinese diplomat in the United States to the Speaker of the House of a state legislature that he refrained from naming, advising that legislator to refrain from any interaction with Taiwan that did not go through Beijing.
"You add a diplomat from China, assigned here to the United States, a representative of the Chinese Communist Party, in New York City, sending a letter urging that an American elected official shouldn't exercise his right to freedom of speech," Pompeo said.
He also warned that China has a list of governors considered to be friendly to the Chinese government, and he inferred that he had seen the list.
That list might have once included former Alaska Gov. Bill Walker, who brought Alaska to the brink of having China take control the proposed gasline from the North Slope to Nikiski, with his sets of agreements that would have placed Chinese lenders, banks, and gasline construction companies in the driver's seat, and Alaska's government in debt to the Chinese by tens of billions of dollars.
Walker signed that agreements in 2017, but he was voted out of office in 2018 before the deal came to fruition.
Before he was removed from office, Walker made one more trip to China to take part in the fourth annual China-U.S. Governors Forum.
Walker was the leader of the U.S. delegation of governors, and can be considered on the list of "friendlies" that the Chinese government kept.
"We can't ignore China's actions and strategic intentions," Pompeo said Saturday. "The Chinese government has been methodical in the way it's analyzed our system… it's assessed our vulnerabilities and it's decided to exploit our freedoms, to gain an advantage over us at the federal level, the state level and the local level."
"Competition with China is happening. It's happening in your state, and it affects our capacity to perform America's vital national security functions. In fact, I'd be surprised if most of you in the audience had not been lobbied by the Chinese Communist Party directly."
"In the words of President Reagan, when you are approached for introduction or a connection to a deal, 'trust but verify,'" Pompeo said.
"Whether you are viewed by the [Communist Party] as friendly or hardline, know that it's working you, know that it's working the team around you," he said.
"They've labeled each of you friendly, hardline or ambiguous. I'll let you decide where you think you belong. Someone in China already has. Many of you indeed, in the report are referenced by name." – Secretary of State Mike Pompeo
Pompeo singled out Florida, saying its state retirement system had invested in a company that invested in a surveillance company that Chinese Communists use to track more than one million Muslim minorities in their country. That is the kind of threat that can even put U.S. military personnel at risk, he said.
Pompeo's remarks came just 48 hours before the U.S. Department of Justice announced it had discovered the party responsible for the 2017 hacking of credit monitoring company Equifax: The Chinese military. A grand jury in Atlanta has indicted four members of the Chinese military, although they will likely never be brought to justice for the security breach that stole millions of Social Security numbers and other sensitive personal information from Americans.