By JESSE SUMNER
Earlier this month, Gov. Mike Dunleavy announced this year's budget reductions, following through with what fiscal conservatives have said must happen if Alaska is to stay afloat during these challenging times. We cannot continue to operate as if we have an unlimited amount of money. We don't.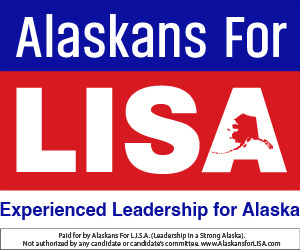 In the midst of a public health crisis – especially one where the closing of most businesses is apparently warranted – we cannot spend our precious state dollars on items and programs that a.) will be covered by incoming federal stimulus dollars, or b.) do not assist economic recovery in Alaska.
Without a serious and swift economic recovery, Alaskans will have no choice but to either leave the state, face unimaginable levels of taxation, or suffer in poverty until our leaders figure out what their priorities should be.
For several years now, Alaskans have been deprived of their statutory permanent fund dividend checks. More and more, it appears as if this year, of all years, will be no different.
One of the governor's vetoes was $1.5 billion that legislative leaders in the House and Senate had tried to tuck back into the Permanent Fund, in an attempt to keep it out of the hands of the dividend program. This was the wrong move by legislative leaders and the right move by the governor.
A member of the House Majority recently accused Alaskans of being "very quick to have their hands out," as justification for why no additional dividend funds or economic stimulus payments should be made.
Should anyone be surprised that Alaskans, many of whom are only unable to work because of the mandates imposed by the government, might have an itch to access the money that lawfully belongs to them?
As people suffer more – and they will, the longer this virus remains in Alaska – the worse our future will look.
Anchorage Rep. Lance Pruitt wrote a letter to Gov. Dunleavy asking him to direct the Department of Revenue to issue PFD checks as soon as possible, rather than waiting until October. Of course, I support this idea, and I encourage Gov. Dunleavy to follow through on it.
But I also know that the dividend authorized by Senate President Cathy Giessel and Speaker Bryce Edgmon is only $1,000. Yes, it would help families and stimulate the economy for a week or two, but it's a severe slap to the face, especially when $1.5 billion is sitting there ready to go – ready to help Alaskans weather this storm.
Times like these are why we have the Permanent Fund. Not to pay for government programs, not to enable governments to spend more money without making cuts. The fund exists so that when the unexpected happens – as it has – that we can keep people afloat with their money.
This isn't borrowed from a bank or from China – it's Alaskan money, earned on the backs of Alaskans. It's time to put that money to work, get people through this tough time, and follow the law.
Jesse Sumner is a candidate for State Representative in District 10 (Wasilla), and a member of the Mat-Su Borough Assembly. Learn more about Jesse at SumnerForAlaska.com.