14 DAYS OF TRYING TO ARREST AN INVISIBLE STOWAWAY
In a press conference that was brutally honest with Alaskans, the Dunleavy Administration today announced the most stringent mandates yet, similar to those imposed in Hawaii: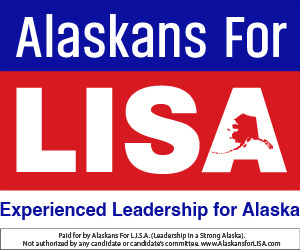 All travelers coming into Alaska must quarantine for 14 days upon arrival. They'll need to go directly from their airport to the place where they'll be quarantined, and that information will be collected from them as they arrive. The order takes effect March 25 and the State will reevaluate this mandate on April 21.
[Read the quarantine mandate and associated exceptions here]
The Administration has not determined yet how it will collect that information from people arriving by boat or road, but most are arriving by air, said Health and Social Services Commissioner Adam Crum.
There are now 36 known cases of coronavirus in Alaska, four more since yesterday.
Chief Medical Officer Dr. Anne Zink said that the state now believes that four of the 36 cases are of "community spread," which means they have no known connection to travel, although the four new cases today are travel related and are in Anchorage.
In another health mandate, the strong advisory to remain six feet apart from people outside one's direct family unit is now a mandate. No gatherings of 10 persons or more are permitted, and any gatherings must maintain the six-foot rule.
[Read the personal services and distancing mandate here]
In addition, all personal care businesses, such as salons, massage services, tattoo businesses and tanning salons are being temporarily closed across the state, said Commissioner Adam Crum. In some communities, this order has already been in effect because of the number of cases of the virus.
The governor said that the state is trying to focus on what can be done in the next couple of weeks, and he acknowledged that the economy won't work if people can't get to work. He thanked health care providers, public safety officers, and State workers who continue to work through the crisis, although many State workers are now working from home.
Dunleavy acknowledged that many Alaskans will end up getting the virus, many will get sick, some will get very sick, and he said some Alaskans may even die from it.
"This will be a challenge, but I don't want Alaskans being afraid," he said. "We shouldn't be afraid, but we should be concerned. We should change our behaviors. It will help slow this virus down."