Former Lt. Gov. Mead Treadwell filed for the office of governor on Friday. He's joining a Republican primary ballot that already has Mike Dunleavy, Scott Hawkins, Michael Sheldon, Darin Colbry and Gordon Thomas.
Treadwell ran for U.S. Senate in 2014, rather than remain on the ticket with Gov. Sean Parnell for reelection. Both men lost — Treadwell in the Primary to Dan Sullivan and Joe Miller, while Parnell went on to the General Election, where he was overtaken by Undeclared Democrat Bill Walker.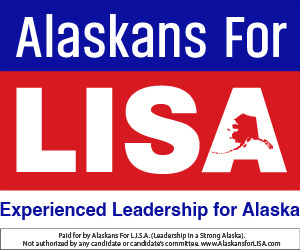 Since then, Treadwell has worked as president for PT Capital, a firm launched by Hugh Short and Joe Sanberg, with Alice Rogoff, former publisher of the Alaska Dispatch News, as a senior adviser. He left that role on Friday.
He's also stayed active on the speaking circuit and with circumpolar conferences and panels. He has long been in investing and business startup, and is speaking at the Wilson Center at Yale University on June 11 on the topic of space technology and the Arctic. Watch the panel, which includes Tina Pigeon of GCI, here.
Treadwell is Catholic and pro-life, and in other ways is viewed by many as a moderate Republican and Anchorage businessman. In a Republican primary, he occupies the same general profile as Scott Hawkins — a successful business entrepreneur — although Hawkins has not served in elected office and has operated a political action committee focused on pro-private-sector issues for several years. Both are well known in the business community, but Treadwell has name recognition beyond the Alaska business community due to his four years as lieutenant governor and run for Senate.
Born in New Haven, Conn., he attended both Yale (BA) and Harvard (MBA) universities. Treadwell moved to Alaska to take an internship with Walter Hickel's campaign for governor. Hickel lost to Gov. Jay Hammond in the primary. Treadwell worked as a political reporter for the Anchorage Times, and later as Hickel's  treasurer and vice president at the Yukon Pacific Corporation. Treadwell was also the Cordova's director of spill response after the Exxon Valdez oil spill.
Hickel later won the governorship under the Alaska Independence Party banner, Treadwell became deputy commissioner of the Department of Environmental Conservation, from 1991-94.
Although it is late for Treadwell to jump in the race, his first task will be to see if there's enough support for his candidacy, and the proof of that will be in fundraising and polling.
He has until July 2 to see if an independent political action committee will stand up support for him in a primary battle that is millions of dollars in the making. One of the problems for the short calendar he faces is that he has committed to speaking engagements on the East Coast for the next several days.