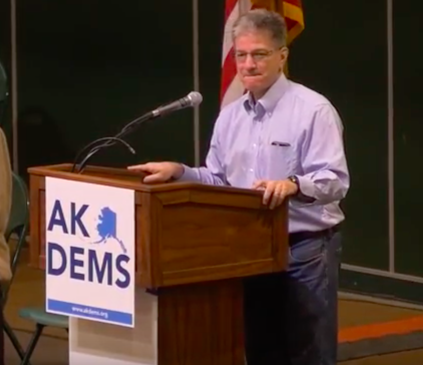 TOWN HALL MEETINGS UNDERWAY THIS WEEK
Mayor Ethan Berkowitz has an idea for how to pay for the largest budget in Anchorage history: Now that there's little to spare with "community assistance" from the State of Alaska, it's time to get the State to pay communities a dividend from the Alaska Permanent Fund.
This is a plan that plenty of local mayors and assemblies, now controlled by taxing liberals, will likely embrace as they converge on Juneau with their legislative agendas.
It's really community revenue sharing by another name. The sharing just comes from Alaskans' Permanent Fund dividends.
Berkowitz noted in an interview with KTVA that Anchorage and the State of Alaska have many of the same services for the same populations.
"What the state hasn't done with its fiscal planning is to integrate the local governments in terms of what it's going to look like because we both provide services to the same constituencies," Berkowitz said. "A community dividend, in essence, would mean you would divide the dividend payout between state government, the dividend itself and local government."
With the Berkowitz community Permanent Fund dividend, Alaskans would receive even less of their statutorily determined dividend, although the amount to be skimmed by local governments is unclear. Berkowitz also didn't explain how unorganized parts of the state would receive a community dividend, since the Legislature serves as the borough government for unorganized areas.
The second of three town hall meetings on the Anchorage legislative agenda takes place from 6-7:30 pm at Chugiak High School's auditorium on Wednesday, Jan. 8. On Jan 9, the Mayor and the Anchorage Assembly will head to Girdwood's Community Room for another town hall, from 6:30-8 pm.
Among other items to be discussed are the three new sales taxes proposed for Anchorage residents, which will also be the subject of a separate public hearing on Jan. 14, as the Assembly seeks to move one or all of them to the March-April municipal election:
While state funding to the municipality of Anchorage has dropped by $100 million since 2005, the city's budget has continued to explode, and now must be fed by taxes. The municipal budget is nearly 15 percent higher now than when Berkowitz took office and every year the Berkowitz Administration has set a new record for the size of the municipal budget. Meanwhile, the population of the city has dropped, and the number of new homes built in Anchorage during his administration was the lowest in decades. Only 219 residences were built in 2019.