DEMOCRAT-LED HOUSE UPSET ABOUT VETOES
Gov. Michael Dunleavy restored numerous programs in the HB 2001 spending package that was sent to him by the governor.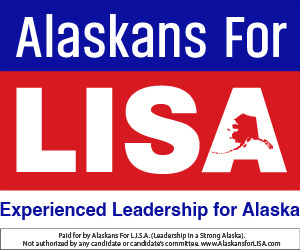 These are programs that he had originally vetoed when legislators Key programs and services restored in HB 2001:
$21.5M to Senior Benefits Program
$110.25M to the University of Alaska
$8.8M to Early Learning Programs, including Head Start, Early Childhood Grants, Parents as Teachers, and Best Beginning
$759,100 to Alaska Legal Services Corporation
$809,100 to Online with Libraries and Live Homework Help
$3.8M to Alaska State Council on the Arts
$100,000 to Office of Veterans Affairs for an additional Veterans' Services Officer
$2.2M to Human Services Matching Grants and Community Initiative Grants
$533,500 to reopening the Utqiagvik (Barrow) Law Office
$2.7M to Agricultural Programs
A restored items of interest document can be found here.
*A restored items summary can be found here.
Line-item vetoes in this bill include:
The elimination of unconstitutional commitments of future year funding;
The elimination of optional Medicaid services to ensure adequate funding for federally required Medicaid programs; and
The elimination of debt payments on behalf of other entities, which are not a core function of the State.
*A vetoed items of interest document can be found here.
*A vetoed items summary can be found here.
It is the largest budget cut in state history and only paid a little more than half of the statutory Permanent Fund dividend to Alaskans. The budget, with the vetoes, eliminated just one-third of the deficit with the $650 million in vetoes.
The Democrat-led House Majority was not satisfied with the number of restored programs.
Speaking for the Majority that includes a few Republicans, Speaker Bryce Edgmon said: "In a way, the signing of HB2001 represents good news for Alaskans. We will officially receive a $1,600 dividend, more than we have received in many years since the program's inception. The governor also decided to follow the Legislature's leadership and restore programs and services that are essential to elders and children across our state. At the same time, the governor made many cuts without analysis to determine impacts on people and our economy, and he continues to perpetuate the myth that we can afford the largest PFD in history without significant negative consequences." 
The governor also took heavy fire from his pro-PFD base, the people who voted for him when he said he would fight to restore the dividend. Several commenters indicated disappointment and said that Dunleavy "caved."
"I disagree with the governor's caving on the PFD," wrote Larry Wood, expressing the views of some who were disappointed in Dunleavy not vetoing the $,600 and calling a special session for the $3,000 full dividend. "I also disagree with his caving on so many of the Left's pet programs. Dunleavy's concessions will be viewed as a victory by those who support the House Dems. The Legislature took the governor's measure and denied him his centerpiece promise. Dunleavy should have understood real politik, the Left plays to win no matter the cost. He was unwilling to weather the storm, and caved. Another special session is pointless, the Left won."