When U.S. Senate candidate Kelly Tshibaka returned to her home state of Alaska to become commissioner of Administration, she soon was attending events all over the state.
That included the Kenai River Classic, a fundraiser to help preserve the stocks of the mighty Kenai River. It's a charitable event, invite-only intended to educate high-level policymakers and business leaders about the habit restoration and access projects that the Kenai River Sport Fishing Association undertakes every year.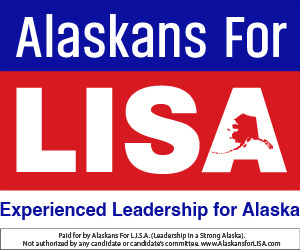 The event has raised more than $18 million in 25 years, all for the use of fisheries conservation.
But Tshibaka, although she was issued a license to participate, was not eligible for the resident license yet, since she had just moved home after working for the U.S. Postal Service in the nation's capitol. She received a resident license when she registered at the classic in August.
"Kelly attended the 2019 Kenai River Classic in her capacity as commissioner of the Alaska Department of Administration. Her confirmation hearings had been very public and it was well known that she had recently returned to the state to serve in the governor's cabinet. The event organizers asked if she had a current fishing license, and when she said she didn't, they issued her one," said Tim Murtaugh, spokesperson for the Tshibaka campaign. "Lisa Murkowski's allies are clearly worried about Kelly, if they are willing to attack her on this."
Fishing licenses in Alaska require that the applicant live in the state for 12 consecutive months and state that they intend to remain residents before receiving the license. Tshibaka had been recruited to serve in the Dunleavy Administration in January. By March, the Democrats in the Alaska House were savaging her over her religious convictions in well-publicized and much-written-about hearings.
It's the kind of thing that can trip a person up in Alaska, but the application for the license isn't entirely clear. It asks how many years a person has been a resident. For Tshibaka, it was a literal question — she was born and raised in Alaska and lived here until she went to college at age 15. Then, after law school, she started working for the federal government until returning home with her husband and children to resume her life as an Alaskan. She has continuously owned a cabin in Nancy Lake area for decades.
"This is a race that will be decided on Lisa Murkowski's record as a senator," Murtaugh said. "That's what Alaskans really care about."