TALE OF TWO CITIES AS THEY FACE OPPORTUNITY, CROWDS
An editorial in the Ketchikan Daily News says "Bring on the opportunity" for more tourism for the First City.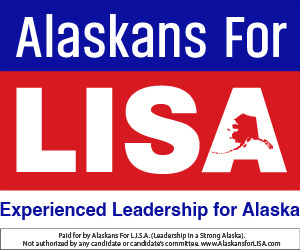 Titled "More to come," the newspaper opinion acknowledges that Ketchikan has been well known as a fishing port, a mining town, and a timber capital:
"It's now a tourism town.
"Like it or not, it's what the community has become.

"We like it. It's opportunity knocking. It's the present and the foreseeable future," the Ketchikan Daily News wrote. The newspaper used the word "opportunity" three times in its editorial.
In Juneau, public radio's KTOO had a different take. In a podcast that alternately mocks tourists and casts the industry in a less-than-favorable light, the reporter focuses on how little tourists pay for the privilege of landing in Juneau.
The promotion that KTOO has run for the podcast tell listeners:
"This year, cruise ship passengers outnumbered local residents in Juneau 35 to 1. That's why the KTOO news team is making a podcast about how we got here, what it's like to live here and what the city's future holds in light of the industry's explosive growth."
"We meet two people who were there when an old mining town sold its history and transformed itself into Cruise Town."
In April, a meeting in Juneau brought out some of the most vocal opponents of expanded tourism:
"I am wondering what the stance of all you gentleman and the people in the audience are on setting limits on the number of visitors?" asked Dennis Harris of a panel of tourism industry representatives, as quoted in the Juneau Empire. "I think we've already reached our capacity to offer our visitors a really wonderful, memorable experience. When are we going to set limits in this community on the number of people we have coming here in the summer?"
It's a view that has been repeated in Juneau since the 1990s, when the number of tourists hit 600,000. Today, that number has doubled. But rather than look for ways to accommodate more visitors and ensure them a high-quality experience, Juneau seems to have its hackles up. At least if public broadcasting's spin on it is to be believed.

Back in Ketchikan, the view from the local newspaper is more optimistic and solution-oriented:
"Fortunately for Ketchikan, the tourists' interest is piqued by the First City.

" This past cruise ship season, 1.17 million passengers disembarked onto the community's downtown streets, spreading out across the island in shops and on tours especially designed for their entertainment."
The newspaper acknowledges the growing pains and pressures on infrastructure, but has an optimistic view:

"The potential is great.

"It is projected that Ketchikan will experience sizable growth in the tourism industry over the next decade, adding about another half million cruise visitors.

" The city is seeking proposals for expanding its dock space to accommodate ships, particularly the larger ones as the industry experiences a building spurt during the next few years.

"The city also is focused on upland improvements and traffic flow for efficiency.

"The city isn't the only game in town, though. The Ward Cove Dock Group came on the scene earlier in the year. It intends to build two berths in Ward Cove for ships, first and most specifically for Norwegian Cruise Lines.

"The Ward Cove operation anticipates the first ships to be calling in the second half of summer 2020.

"This will give Ketchikan a total of six berthing opportunities.

"And, with cruise ships being the community's biggest immediate economic opportunity outside of government, schools and the Ketchikan Medical Center, the goal should be to fill them all up. Other industries also will thrive given time.

"The visitors are coming to see the First City. The best hosts are the locals who have lived here and know about what they say. It is their stories, their experiences, that the visitors are most interested in.

"This is our town. Through local government and business owners and operators, it's up to us to figure out how to present ourselves in a way that will sell the community to the visitors, keeping them and their acquaintances coming back to enjoy new and different experiences season after season. Or to repeat an experience that made an impression that brings them back again.

"This can be done without losing our identity and preserving our own sense of community. Paramount in achieving this is handling the increased motor vehicle traffic that busing cruise ship passengers between Ward Cove and downtown will create."