For a moment last weekend, it seemed possible that Mayor Ethan Berkowitz had been trafficking in child porn of some sort.
At least that was the bizarre claim being made by television news anchor Maria Athens, in a Facebook promotion on Friday that never materialized to anything other than a separate scandal: The mayor of Anchorage admitted he had had a torrid sexual "messaging" relationship with Athens and resigned from office. Athens posted a naked photo of the mayor on Facebook; she also was arrested for assault of her fiancé, and spent last weekend in jail.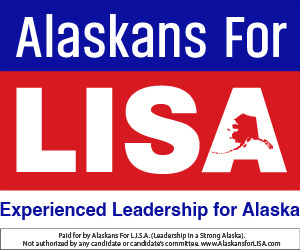 But the original allegations of kiddie porn sat there to be sorted out by reporters, who interviewed witnesses and determined that a young lady, who has worked as an escort, had mentioned something to her mother about a "short" politician involved with a kiddie porn website. By now, we know the young lady never said it was Berkowitz. She emphatically says it is not.
But it was, apparently, another short politico in Anchorage. A state worker? A lobbyist? An elected official? We don't know and the media has left that trail unexplored whilst trying to find ways to slut-shame the anchor and make her entire existence not credible.
Athens sticks by her story, but has had the equivalent of a nervous breakdown and is now sequestered in Interior Alaska in a safe place. The mother of the young escort says she misunderstood her daughter when she relayed that information to Athens. It was all a big mistake.
If the young escort is to be believed, Alaskans should expect that the FBI is following up with her, interviewing her about who this guy is, this short politico who likes to engaged in kiddie porn. It's evident, considering her age, that she may have been trafficked herself as a teen, and that would be of great interest to the FBI.
Must Read Alaska has, in fact, learned that the FBI has not dropped the case and is pursuing leads. Anchorage Police, which quickly closed the case publicly and said there was no crime evident by the soon-to-be-ex-mayor, is working with the feds to determine who this political pervert actually is who is dabbling in felony behavior.
Alaska has some of the worst levels of child sexual abuse in the country. More than 9% of Alaska high school students have experienced sexual violence, according to the State of Alaska Child Abuse Investigation Units in the Department of Public Safety.
According to the National Human Trafficking Hotline, Alaska has had 15 known cases of human trafficking this year and 51 contacts with the hotline.