UPDATED: $1,600 IS LATEST DIVIDEND AMOUNT TO PASS
A number of procedural actions took place today, and the ultimate result was a $1,600 Permanent Fund dividend for 2018 was adopted by the House on a vote of 20 to 14, with six members excused.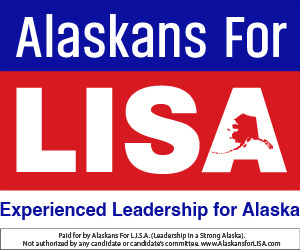 EARLIER STORY
And just like that, the $2,700 Permanent Fund dividend was history.
Beyond that, they still need to officially pass a new amount, which appears to be $1,600.
There are amendments flying between at-eases and calls on the House, but it looks like the House majority is trying to dig itself out of the chaos it created on Monday when it passed the full $2,700 dividend.
A yes vote was to rescind the $2,700 dividend, and a no vote was to retain it:
The House is now considering a new Amendment No. 1 to Amendment No. 1, which would put in place the $1,600 dividend, and create a "Percent of Market Value" calculation for the Earnings Reserve Account, which would allow a 5.25 percent draw on the account.
For now, however, it looks like the work is going on behind the scenes.
EARLIER IN THE DAY…
From the Must Read Alaska News Flash that reached 11,000 Alaskans at noon on Friday…
The liberal House majority can't seem to get an operating budget over to the Senate, even though the majority has 22 members. Bryce Edgmon blamed the "Minority 18" for what the "Majority 22" were unable to do.
But ever since the vote to increase the Permanent Fund dividend to $2,700, which added millions more to the too-big budget, a schism formed in the "nonbonding" majority caucus. Thus, the chaos in the House today.
They're now looking at Amendment #1 to Amendment #1:
Besides Rep. Paul Seaton, the always mixed-up Finance Chair, two members are emerging as problems for the majority: Rep. Chris Tuck and Rep. Gabrielle LeDoux.
LeDoux has walked her district in Muldoon She knows she is toast unless she reverses herself on SB 91 and the Permanent Fund Dividend. And she has no political home. She betrayed the Republicans and now she is betraying the Democrats.
Tuck, down in District 23, knows a poll was done and that his vote to fully fund the dividend is a matter of political survival. He faces a difficult re-election, which explains his flip-flopping.
Flipped from for to against $2,700 PFD were: Bryce Edgmon, Scott Kawasaki, John Lincoln, Ivy Spohnholz, Tiffany Zulkosky and Justin Parish.
Now it's told to Must Read Alaskathat the majority is trying to co-opt members of the minority, since the majority doesn't have enough votes for the budget.
But which Republican minority member would help the Democrats grow government at such a time? None whom we know.