PFD WOULD BE ~$650 UNDER HOUSE BUDGET
In a House Majority press conference today, leaders of the Democrat-led bipartisan caucus acknowledged — in their own ways — that Gov. Michael Dunleavy is right about at least one thing: Alaska doesn't have enough revenue to pay for the status quo budget without additional revenues. And they agreed that taxes are off the table.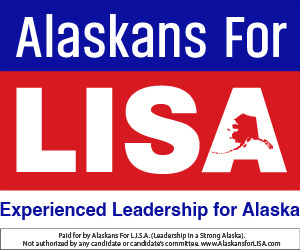 Gone was the chest-beating days of House Speaker Bryce Edgmon, who in February angrily called the governor's budget an "outrageous proposal."
Now, Edgmon used softer terms: "The changes being proposed are pretty dramatic."
They were striking a more conciliatory tone regarding the budget, and they were now stating publicly that Alaskans have spoken and are ready to give up much of their Permanent Fund dividends.
After traveling to eight communities around the state, the House Finance Committee co-chairs said that the vast majority of people who testified about the budget are opposed to the cuts proposed by Dunleavy. For every Alaskan who expressed support for the Dunleavy budget, another five testified against it, said House Finance Co-Chair Neal Foster.
Instead, they're proposing an operating budget much like last year's, but with about $47 million in trims to Gov. Walker's nearly $6 billion spend. Dunleavy's budget was such a shock to them, they didn't even want to use it as the basis for their plan. Instead, the House Majority took up the budget of ousted former governor.
Speaker Edgmon said the Democrat-led caucus was formed around the principle of "providing a responsible budget that would protect essential services but also spend within the means of available revenue for the upcoming year."
"It will be a budget that also contains a sustainable Permanent Fund dividend and doesn't tap into savings in order to fund for it," he said.
"You've got a governor's budget that's looking to displace cuts and possibly shift to local governments up to about a third of the overall budget, and then you've got a Permanent Fund dividend that's twice the size it was last year. And so you've got sort of these ends of the spectrum, and our question…to a lot of Alaskans was, where do we meet in the middle? What essential services do you want, and what's your version of a sustainable Permanent Fund dividend?" Edgmon said.
"A lot of Alaskans — not all — but a lot of Alaskans are willing to take a reduced Permanent Fund dividend," he told reporters.
BUT HOW MUCH IS THE DIVIDEND?
Right now, the Permanent Fund dividend could be anywhere between $500 and the $3,000 Dunleavy has proposed, as he wants to return to the traditional formula and not turn the dividend into a political football.
Walker's dividend amount was set at $1,800.
In the House's "Leftover Dividend," method, it currently looks like about $650. But the House has not actually put that down on paper.
"Right now our intent is to take care of the budget first, and then come back to the PFD amount later," said Rep. Foster.
Rep. Chuck Kopp said that over the past few weeks he has seen more agreement among lawmakers, "paths coming together, rather than further divergence, a recognition that we can't overspend, we can't continue to go into savings, we can have a healthy dividend, and we can have good roads, schools, and public safety."