HEAD SHAVING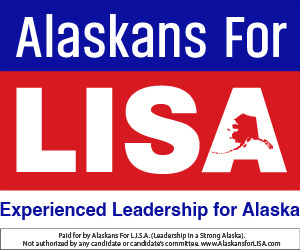 Janet Weiss, president of BP Alaska, will shave her head on Saturday. She promised employees she would if they stemmed the decline and held Prudhoe Bay oil production flat in 2017. And they did. Weiss has been regional president since 2013, succeeding John Minge.
DISTRICT 40 CANDIDATES – A NO-GO?
The three candidates for the District 40 seat are said to be rejected by House Democrats. The two who were leaders for Dean Westlake's vacated seat cancelled each other out with friendly fire — accusations between Eugene Smith and Sandy Shroyer-Beaver.
Is there any chance they'll seat former Rep. Ben Nageak of Barrow? It would come with an agreement he would have to join the Democrat-led majority. That's the talk.
DEAN WESTLAKE
We're hearing rumblings that former Rep. Dean Westlake wants to appeal at least one of the findings of the Legislature's human resources investigation into sexual harassment claims against him. And he may even want to sue, because private personnel information was released by Rep. Gabrielle LeDoux and the Legislative Affairs Agency. Does he have a case?
JOB OPENING
Sen. Lisa Murkowski is hiring a staff assistant. Desired qualifications include "two years of office experience with strong phone and reception skills. Outstanding written and communication skills as well as detail oriented. Must be able to work in a fast-paced environment and have a demonstrable understanding of Alaska's unique issues and attributes." The job starts in February. E-mail cover letter and resume to Angelina Estrada-Burney, Administrative Services Director at [email protected]
EGAN OUT?
Sen. Dennis Egan is thinking about retiring. The 70-year-old Democrat told the Juneau Empire he'll announce his decision Feb. 6 on KINY, the radio station he owns.
Egan is 70 and "has health challenges." Juneau tip-toes around what this means, but it's not really a secret here in the Capital City.
In addition to Egan questioning his political future, Rep. Sam Kito isn't sure he wants to continue if he doesn't get per diem, as he has in the past.
For Rep. Justin Parish, however, $50,400 a year is the best money he'll ever earn. He's already running hard.