The head of the Anchorage Water and Waste Utility has issued a statement confirming that staff at the Eklutna Water Treatment Facility had indeed expressed concern about the irritation some had experienced due to handling fluoride, which is added to the water system.
"AWWU staff did express to the Mayor that the handling of the fluoride chemical used to add to our water is a dangerous hazardous chemical. While they are professionals and well trained in handling it, the general sentiment of the operators who work with it would be to prefer not to handle it as they have experienced occasional unreportable health and irritation effects after handling it, even with all the proper OSHA compliant protocols and PPE being used," wrote General Manager Mark A. Corsentino.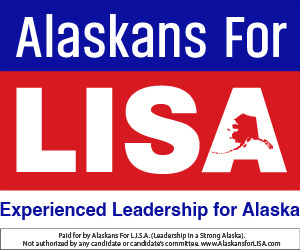 Corsentino was responding to wildly inaccurate and speculative reporting in mainstream media and leftist blogs that the mayor had endangered the public by temporarily shutting off the fluoride after his tour of the Eklutna. Reporters from Alaska to the national media have cast doubts that anyone complained about irritation caused by the fluoride.
News of the mayor's actions have made national news in the New York Times on Friday, almost certainly as a story planted by leftist partisans who oppose the Bronson Administration.
The Anchorage Assembly liberal majority has taken it upon itself to conduct an investigation and has demanded all emails from the Bronson Administration relating to the matter. The Assembly leadership has said that the emails don't match the reality of the situation, and alternately that they didn't get the emails from the Bronson Administration.
"In reading these emails, it is clear that there's a difference between the Mayor's account of events and what AWWU employees are reporting," said Vice Chair Chris Constant. "Ensuring that our drinking water meets municipal regulations and code requirements is critical to the health and safety of our community. It is imperative that we get to the bottom of this so we can understand why and how this happened, and safeguard against this type of interference in the future."
Chairwoman Suzanne LaFrance falsely stated that the Administration had not been responsive to her records request: "while the Bronson Administration has responded to the media, Assembly leadership has yet to receive a response to our records requests sent to the Administration on December 12. Clearly this is a matter of serious public concern and Assembly leadership is committed to following through on our fact-finding inquiry. We need to hear from everyone involved, including the Mayor, so we can reconcile the conflicting reports and learn the truth."
Corsentino backs up the mayor's reporting of the incident.
"It was brought up that while its addition is an Assembly ordained requirement, fluoride is not necessary for safe drinking water, and many municipalities around the world had stopped adding it to public water systems over the last decade. From a strategic standpoint, AWWU has an approximate $1M proposed upgrade to rehabilitate the fluoride system in the near future; and, if it was to come up with the community and Assembly for removal, now is the time to bring it up before money is spent for an expensive upgrade," Corsentino wrote.
"The mayor took that into consideration in his decision, with concurrence from AWWU, after we let him know the system is oftentimes down and offline for corrective and preventative maintenance reasons. We let him know that we have learned that it can be down for hours and days at a time without any code issues because fluoride has a long residual in our water system, which would allow ample time to reverse his decision before any impacts would be towards meeting code. It is in fact down as of yesterday for an equipment failure, and we expect to have it up and running early next week when repair parts arrive," Corsentino reported in his statement.
"First and foremost, as the General Manager of the Anchorage Water and Wastewater Utility (AWWU), I can say, with confidence, that I would never compromise the safety of our water, the community, or our employees. AWWU's water is pristine; it has and continues to meet and exceed all federal, state and local requirements for treatment and distribution to our customers. Our customers can drink with ease and confidence knowing that AWWU's drinking water is some of the purest and cleanest water on the planet," he wrote.
"With that being said, AWWU does add fluoride to our water. Fluoride in drinking water is a topic that recycles its way back-and-forth into the media and public spotlight from time-to-time, as we are seeing now and have seen over the last few decades since first being introduced to our water many years ago. AWWU has, and continues to remain, neutral in regards to the addition of fluoride to our water; we add it to the water as directed to us by Municipal Code via Assembly Ordinance.
"Fluoride is not something that is necessary to provide safe drinking water. It is identified as a contaminant, in the Federal Safe Drinking Water Act, that must be removed from certain community water sources where it naturally occurs in their water at elevated levels. Fortunately, at the lower levels in which we add it to our water, the CDC and U.S. Health and Human Services recommend it as a way to prevent tooth decay and promote good oral health.
"If you want to know more about fluoride, we have a fact sheet on AWWU's public website: Fluoride and Anchorage's Drinking Water (https://www.awwu.biz/about-us/frequently-asked-questions/fact-sheets)."
At the end of the day, Corsentino wrote, there were no federal, state or local code compliance violations with the municipal water. "It is as safe to drink after the tour as it was before, and still remains that way today and will tomorrow. "