WAIT… WHA-A-A-T?
Gov. Bill Walker's press secretary evidently didn't get the memo that Walker has endorsed Democrat Mark Begich for governor.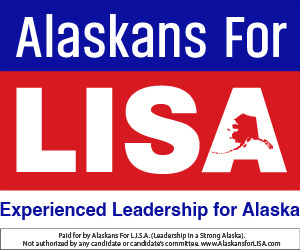 Austin Baird, who took the job of press secretary last December, posted on Twitter this week that he is all-in for Valerie Davidson as a write-in candidate. Davidson took over as lieutenant governor when Byron Mallott resigned in disgrace last week. She had been commissioner of Health and Social Services.
"voteforval," he wrote under a photo of himself with Davidson and Barbara Blake, who he evidently supports for lieutenant governor.
Last week, the president of First Alaskans Institute also promoted Davidson as a write-in candidate,
GOVERNOR, FIRST LADY ARE AT THEIR HOME IN HAWAII
While the members of his administration are busy looking for work — or ensuring they'll never find it — Gov. Walker and First Lady Donna Walker left the state last night for Hawaii, where they have a luxury home in a gated community. Word is they are just looking forward to some badly needed R&R.