Although Gabrielle LeDoux may have won her re-election, she may face a write-in campaign in the November General Election.
Tuckerman Babcock, chairman of the Alaska Republican Party, said that the write-in could be for either LeDoux's primary challenger, Aaron Weaver — or if Weaver chooses otherwise, another candidate, such as Jake Sloan, who had run for the office briefly but withdrew.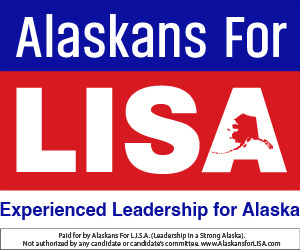 Babcock will be meeting with Weaver and District 15 Republican officials tomorrow to discuss the next steps.
LeDoux's election is under a cloud of suspicion as some of the ballots voted in her district have been sent to the criminal division of the Department of Law for investigation of possible fraud.
LeDoux, the incumbent for House District 15, now leads by 113 votes, with 26 votes being considered suspect due to residency or other legitimacy issues.
"The Alaska Republican Party does not acknowledge Gabrielle LeDoux as a Republican candidate," Babcock said.
Last year, the Alaska Republican Party voted to remove all support from LeDoux and to actively seek her removal. The party asked her to change her registration from Republican to something else, because the party believed she was a turncoat.
LeDoux issued a statement to the Anchorage Daily News that defended her efforts to bring in the votes for her candidacy in District 15, and denied doing anything illegal.
Sen. Lisa Murkowski successfully ran a write-in campaign against Joe Miller in 2010, and in Juneau, Sally Rue won as a write in candidate for the Juneau Board of Education in 1992.
KTVA FINDS MANY IRREGULARITIES
KTVA crews went to some of the addresses where votes were sent from in Muldoon, and found plenty of irregularities, including addresses that simply do not exist.
If LeDoux is found to have participated in voter fraud, she could be disbarred from the Alaska Bar Association and also face legal penalties.