The recount of Fairbanks House District 1, which was a tie between Bart LeBon and Kathryn Dodge, started at 10 am on Friday morning.
At the end of the process, the vote was still a tie — each had one more vote than they had earlier in the day. Each have 2,662 votes.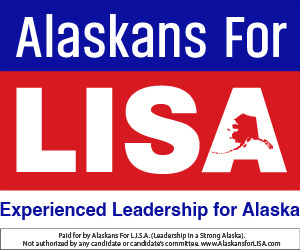 Two dozen observers and lawyers oversaw the work of elections workers as they fed ballots into counting machines in a small room at the Division of Elections Offices in Juneau.
Attorneys for the Democrat Kathryn Dodge challenged several ballots during the process and after the hand count was done of a random precinct — Precinct 4 — they continued their discussions with election officials.
Two ballots that were not counted were absentee ballots cast by a Republican married couple. The couple had mistakenly  put their ballots in each other's envelopes, which could disqualify them. The Republican lawyer is challenging that, saying they should be counted.
A tie is decided "by lot," according to state law. That could mean a coin toss. But it appears the Democrats are ready for a court challenge first.
This story will be updated today.