CANDIDATES FOR GOVERNOR ATTEND GOP FORUM
More than 70 Interior Republicans gathered at the Monroe High School in Fairbanks on Saturday to hear gubernatorial candidates Scott Hawkins and Mike Chenault describe their campaigns and views on the state budget, economy, crime, and the Permanent Fund dividend, and to say why they want to be governor of the state.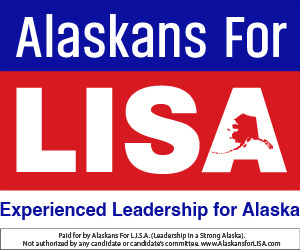 It was the first time the two had met on the same stage to speak to their respective campaigns and visions for the state.
Moderated by Sen. Pete Kelly, the forum was not quite a debate, but did offer a chance for the audience to compare and contrast the two on topics of concern to Interior voters.
Hawkins said he has been a business owner for over 20 years but also has been involved leading political action committees in helping to win campaigns for pro-economic growth conservatives.
He wants a shrinking public sector and a growing private sector, and a restoration of the tens of thousands of high-paying jobs that support Alaska families. He also wants to return the Permanent Fund dividend to a formula-driven amount, and not leave it as a political tool, as has occurred under Gov. Bill Walker.
One of his first acts as governor would be to immediately revise and slim-down the governor's proposed budget, which would have been developed by Walker for the Dec. 15 deadline.
Chenault said he has been in the oilfield construction business on the Kenai Peninsula and first ran for office at the encouragement of his Nikiski neighbors. He was the longest serving House Speaker in state history.
He said that his years as a member of the House helped him develop the ability to talk with both sides of the aisle in the Legislature, something that he thinks a governor needs to do. He criticized the current governor for not being able to work effectively with the Legislature. Chenault supports downsizing government and putting in place meaningful spending caps. He would make tackling the opioid and heroin crisis a top priority.
Both candidates support operating budget cuts and restoring capital budgets to healthier levels. In fact, they agreed on almost all topics, so it came down to a comparison between the one with years of government experience — Chenault — or an outsider from the private sector who has never served inside the system — Hawkins.
Others who attended the meeting were District 1 candidate for House Bart LeBon, and Lieutenant Governor candidates Edie Grunwald and Steve Wright.
Mike Dunleavy, also a candidate for governor, was not present, as he was attending Republican district conventions in Anchorage. Michael Sheldon, who is exploring a run for governor from Petersburg, didn't respond to a question about his weekend plans.
Video of the candidates' forum was captured by Joe Verhagan and is available here.
Tuckerman Babcock, chairman of the Alaska Republican Party, also spoke about the importance of the platform, and the importance and respect for the primary process, and how the two work together.
"The platform states who we are and we try to attract the best people to help represent who we are," he said. That is the work of 400-500 grassroots volunteers statewide. Then we have a primary election and tens of thousands of voters decide who will represent us in the general election," he said.