As the body of Congressman Don Young lies in state at the U.S. Capitol on Tuesday, and as eulogies are being made and eyes are brimming in Statuary Hall, Alaskans back home are already trying to figure out what's next, with an election clock that is ticking.
For now, Alaskans have no representation in the U.S. House of Representatives and the first filing deadline to temporarily fill the congressional seat until January is at 5 pm April 1.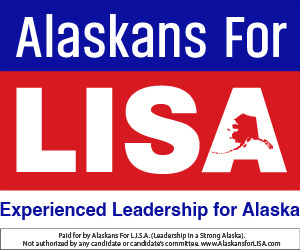 Some of the most politically active and well-known leaders in Fairbanks have lined up for Nick Begich for Congress across the state, and it appears the momentum is not slowing down. Begich's team says he'll have $1 million in campaign receipts by the end of the first quarter.
As with a huge Mat-Su fundraiser last week, which had over 125 co-hosts, there are already 128 co-hosts for the April 7 fundraiser for Alaskans for Nick Begich in Fairbanks. The event is being held at Bobby's Downtown, a favorite spot in the Interior city, and is hosted by Jennifer and Matthew Sampson.
No other candidate for Congress has put together such an impressive list of supporters in Fairbanks, a key city for any candidate.
The co-host list includes Rhonda Boyles, who served with Begich as the 2020 campaign co-chair for Congressman Young and who is the Alaska Republican Party's treasurer. Others are GOP National Committeewoman Cynthia Henry, former state Sen. Pete Kelly, former Republican Party Finance Chair Seth Church, former Republican Party National Committeeman and former state Sen. Ralph and Connie Seekins, former state Rep. Tammie Wilson, former state Rep. Dick Randolph, Cheryl Markwood, Christine Robbins, Fred Vreeman, Libby Dalton Lane, Althea St. Martin, Barbara Haney, Hank and Candy Bartos, Dave Pruhs, Aaron Gibson, Jimi and Kristin Cash, and dozens more who are active in business and politics in Fairbanks.
Although Begich filed for the seat in late October, it's expected that many others will be joining the race to replace Don Young, now that he has passed. Among the ones who have declared are Democrat Chris Constant, non-party Alan Gross, Republican John Coghill of Fairbanks, and several others who are less well known.
Begich is the grandson of Congressman Nick Begich, who died in a plane crash in Alaska in 1972. Don Young filed for that seat and won it in a special election in March, 1973, and has served ever since.