VOTES SHOW UP — BUT FROM WHERE?
Update: Must Read Alaska has learned that early-in-person votes for House Districts 1 and 2 were added into the database together, which is why the tapes did not appear to reconcile. It was an unusual way of doing the count, but it adds up. Additionally, other early-in-person ballots were received from regional voting offices around the state.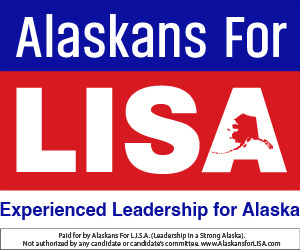 Original story:
After the Division of Elections printed the paper tape with the questioned and early votes counted I the District 1 and 2 and Senate Seat A races, it appeared that Sen. Pete Kelly was losing.
The tapes are the final count on those ballots and those are the numbers loaded up onto the Division of Elections website.
On Friday, the Division will begin counting absentee ballots, and those will be printed on paper tapes as well.
But on Tuesday evening, the Division posted numbers on its website that didn't match what was on the tape.
The Nov 13 5:15 pm  website update correctly showed the District 1 (Bart Lebon and Kathryn Dodge) question ballot counts from tape.
But in the Senate A contest, the numbers jumped after observers had left the building.
The District 1 ballot count for the Senate A contest jumped from 88 to 115 votes. Pete Kelly gained 12 , going from 30 to 42 questioned ballot votes. Scott Kawasaki gained 18, taking him from 55 to 73 questioned ballot votes.
Where did the 27 ballots, which generated 30 votes, come from in the District 1 questioned ballots, and why were those not reflected on the tape?
Similarly, District 2 votes in the Senate Seat A Kelly/Kawasaki race were not posted as shown on the tape for that district. In that district, Kelly gained 11 votes, going from 14 to 25, while Kawasaki gained 19 votes, going from 12 to 31.
There were 29 extra ballots added after observers left the building, generating 30 votes for the District 2 questioned ballots.
In all, 56 additional ballots appeared in the Fairbanks Region III over after the count was completed, adding numbers to the Senate race, while not adding numbers to the Representative race.
Alaska Republican Party observers are inquiring. This story will be updated.