MINING THE IRONY OF PROTESTS IN JUNEAU, THE TOWN THAT OIL KEEPS ALIVE
In Juneau and elsewhere on Saturday, groups called Rise Up and 350.org staged protests about climate change, the wrongs of oil, and the rights of renewables. They hoisted signs that promoted keeping bad oil in the ground and using good renewables.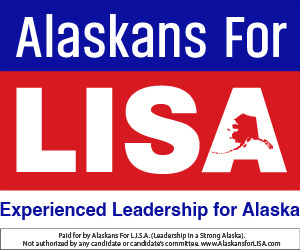 But the irony was everywhere. In Juneau, every protestor was wearing coal and oil, and most, if not all, were carrying electronic devices with metals mined in third-worth countries — possibly by children.
Poly-pro fabrics keep people warm in a cool climate like Juneau, and have been all the rage for decades. Even old-time Juneauites wouldn't give up their puffy Patagonia jackets and return to wool long johns and smelly halibut jackets of yore. Not for all the coal in China.
The Juneau climate change protesters were addressed by former President Barack Obama climate change adviser Don Wuebbels, who was the lead author on the National Climate Change Assessment Reports.
Wuebbels is the Harry E. Preble Professor of Atmospheric Science at the University of Illinois, which presumably means he likely flew to Juneau to stand on the steps of the Alaska Capitol for 15 minutes and address the 100 people gathered as part of the Rise for Climate rally.
He also spoke at the University of Alaska Southeast that evening at the invitation of his former Obama White House colleague Beth Kerttula. There's no word on the carbon footprint of his visit.
As part of the event, the protesters stood for a photo in front of an artificial whale that is breaching from an artificial pond on an artificial island next that was built next to the Douglas Bridge.
The whale is made up of 13,000 pounds of bronze. That's more than twice the weight of two large trucks or SUVs.
Bronze is made up of copper and tin alloys; 50 percent of the world's tin comes from China mines, and 40 percent of the world's copper comes from Chile and China.
China and developing nations that produce these metals have, unlike mines in the United States, wretched records for environmental protections.
To learn more about how polyester is made, click here.
To read about tin mining and human exploitation in Indonesia, click here.
There's not enough irony to go around here, but this author is expecting that next year, protesters all show up in wool and leather, just to keep the narrative "on point."