TWO CANDIDATES FOR GOVERNOR WEIGH IN
Mead Treadwell issued a statement regarding Scott Hawkins' withdrawal from the governor's race: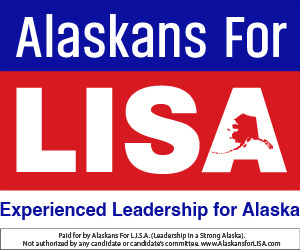 "Scott Hawkins is a good man, an accomplished business person, husband and father. Scott is someone, who like myself, genuinely cares about the future of Alaska. While he is leaving the raced,I encourage him to stay involved in building a sustainable future for our state, protecting the dividend and right-sizing the budget.   He has huge ideas and experience to offer."
"Many of Scott's supporters have already called to join our campaign. Scott's departure leaves me as the only Republican candidate with real world business experience that will enable us to meet the challenge of creating jobs and growing Alaska's economy. I believe that the August 21st primary presents Alaskans with a clear choice of direction for our state.
"My family and I wish Scott and his family the best for the future."
Candidate Mike Dunleavy also issued a statement:
"Scott Hawkins is a good man with a beautiful family. I've enjoyed the time I've spent with him at campaign events over the past few months, learning more about his conservative principles and free-market solutions to Alaska's challenges. While we were technically opponents, Scott unquestionably elevated the debate, laying out a positive vision for Alaska's future− I found that Scott and I often agreed on more issues than we disagreed."
"While I understand his reasons for exiting the race, I welcome Scott's continued involvement in Alaska politics, supporting candidates who share his firmly held belief that Alaska's best days are ahead of us. Rose and I will keep Scott in our prayers, but we remain optimistic that his tenacity paired with a supportive, loving family will ensure a quick return to full health."