Rainy day putting a damper on your plans?
Alaskans for Dunleavy holds an open house at its Anchorage headquarters Saturday this afternoon, 1-3 pm at 400 Northern Lights Blvd. Candidate for governor Mike Dunleavy will attend and yard signs and bumper stickers are available.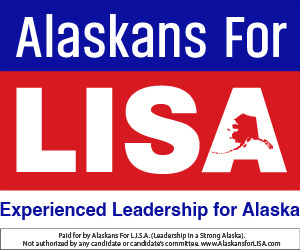 The campaign headquarters is one block away from another Dunleavy group of enthusiasts, named Dunleavy for Alaska. That group is headed by Terre Gales and is separate from the campaign, although is running an independent and robust operation to increase the name-recognition of the former state senator who is now the leading candidate for governor, according to polls from all of the candidates.
That office will also be open today, and people can stop by for their own version of Dunleavy signs, bumper stickers and pins. The campaigns are not allowed to coordinate their efforts and the candidate will not be in attendance there.
PRIMARY VOTING HAS STARTED
The Alaska Primary Election season has started, with early voting now available during weekdays.
Locations for early voting in person are here.
Out of town? You can receive a ballot through the mail if you apply by today, Aug. 11.
Instructions for mail-in voting are here.
Due to the threat of cyber attacks, such as the attempt on Alaska's voting system in 2016, you won't be able to submit an electronic ballot, although you can receive one by email. You will need to fax or mail it in.
Other dates to know:
Aug. 18: Regional offices open 10 am-4 pm for early and absentee in-person and special needs voting.
Aug. 19: Regional offices open 12 pm -4 pm for early and absentee in-person and special needs voting.
Aug. 20, 5 pm: Deadline to receive electronic transmission absentee ballot. applications from voters requesting an electronic transmission ballot
Aug. 21: Election Day.
Aug. 21: Absentee electronic transmission ballots being returned by-fax must be received by 8 pm.
Aug. 21: Absentee ballots being returned by-mail must be postmarked on or before Election Day.