Alaska Gov. Mike Dunleavy, in an appearance at the Conservative Political Action Conference in Orlando, Fla., said on Friday that it's time for the Biden Administration to declare an energy emergency and get oil and gas flowing again in America, rather than have our nation dependent on Russian oil, the way it is now.
Dunleavy was speaking on stage with Sean Spicer about the damaging policies of the Biden Administration, not only for Alaska, but for the rest of the country. He said the current policies have put America in a precarious security situation that could be remedied by getting projects going again — projects halted by radical environmentalists both in and out of the Biden Administration. He mentioned the Willow project in the National Petroleum Reserve-Alaska, and the 10-02 coastal plain area of the Arctic National Wildlife Refuge.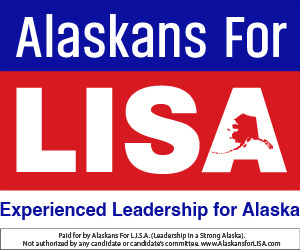 Dunleavy spoke about how dirty the Russian oil is, and how environmentalists are actually working against a cleaner environment.
"When you push this stuff [oil and mining] overseas, you actually destroy the environment at an accelerated rate," Dunleavy said.
Reached after his time on stage at the premier conservative conference in the country, Dunleavy expanded on the need for immediate action from Biden.
"We're not running out of energy. But we need to recognize what's happening in the world. We've put ourselves in a precarious position. There are national security implications. And there could be more domestic unrest because our oil and gas prices have actually artificially increased because we refuse to access our own energy," Dunleavy said. "We are victims of horrific policies that are destined to cause energy prices to increase."
Dunleavy said America's adversaries are "jumping for joy. If you were to design a playbook to weaken America, this would be it." He said America's adversaries know "If we turn on our spigots, they're done."
Dunleavy called the current Biden policies "bizarre. Do they really believe Russia and China are going to safeguard the environment like we are? And don't forget the child labor and human rights abuses."
Dunleavy closed by saying that it's not the wealthy who are hurt by the Biden energy policies, but the working class people of America.
"It's the mom with three kids, it's the waitress, the carpenter, the workers of this country who have been left out of this whole discussion. That's who is going to suffer," Dunleavy said.
The United States currently imports about 700,000 barrels of oil per day from Russia, and the Biden Administration purposefully did not put a sanction on Russian oil imports to the U.S. during his sanctions over the invasion of Ukraine.
"Folks have now realized that they [environmentalists] have way overplayed their hand to the detriment of the country,"Dunleavy said.