Over 200 people crowded into the Turnagain home of former Gov. Bill Sheffield to welcome Congressman Don Young back to Anchorage.
Alaska's only congressman had just stepped off a plane from South Africa — a 10+ hour time zone shift — where he and his wife Ann Young had been on safari.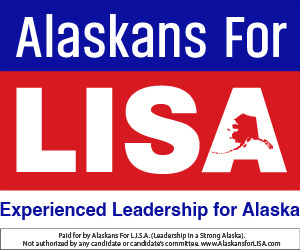 But he was far from tired. Rather, he was in classic Don Young mode — greeting people by name, shaking hands, chatting with old and young, and happy to be with a lot of longtime friends.
Longtime supporters of the congressman said it was one the biggest turnouts for the Young "Taste of Alaska" campaign event — or for any of his fundraisers in Anchorage history, for that matter.
Young, who is the 45th Dean of the House of Representatives, has passed more legislation than any other congressman, noted Julie Fate Sullivan, spouse of Sen. Dan Sullivan, who introduced him.
As the longest serving member of the U.S. House of Representatives, he has filed for his 25th term. He'll be competing against the person he beat last time, Alyse Galvin, who is running in the Democrats' primary.
Attendees who were Republicans, Democrats and those in the middle spilled out onto the patio in the warm August evening overlooking Knik Arm and the Coastal Trail. Young stayed until the last guest was gone, which was well after the appointed ending time of 7 pm.
In addition to Gov. Michael Dunleavy, Sen. Lisa Murkowski attended, as did her Chief of Staff Mike Pawlowski, Sen. Sullivan's Chief of Staff Larry Burton and his wife and son Will, and Sullivan policy adviser Amanda Coyne.
Also spotted were former Lt. Gov. Steve McAlpine, Grace Jang, former communications director for Gov. Bill Walker, Chad Padgett, Dianne Kaplan, Ed Rasmussen, Jim Udelhoven, Ashley Reed, Larry and Ann Baker, Brandon Spoerhase, Lindsey Whitt, Les Parker, Miles Baker, Ben and Elizabeth Stevens, Carl Marrs, Joe Marushack, Mike Szymanski …
… Linda Leary, Rebecca Mahaney, Carole Ashlock, Curtis Thayer, Tom Barrett, Greg Hambright, Jamie and Dave Donley, Al Fogel, Win Faulkner, Rep. Gabrielle LeDoux, Liz Vazquez …
Alaska Republican Party Chairman Glenn Clary, Jerry Prevo, Frank Bickford, Sarah Erkmann Ward, Art Hackney, Justin Matheson, Joseph and Marrie Ann Lurtsema, Jeremy Price, Ken and Pat Thompson…
… Mead Treadwell, Wendy Lindskoog, Pamela Day, Tom Boutin, Stacy Stone Semmler, Mayor Dan Sullivan, C.J. Zane, Daniel George, James Armstrong, Adam Schwemley, Seth Church, Dana Pruhs, Christine Hill, Wayne Anthony and Virginia Ross …
… Rick Fox, Lisa Herrington, Ron and Mary Ann Norris, Rep. Sharon Jackson, Yolanda Clary, Kara Moriarty, Bill O Leary, Rita Sholton, Alyce Hanley, Bill Odem, and Clai Porter,  Deb Brollini, and Randy Ruedrich were among the crowd….
…Also, Sen. Sullivan's communications Director Mike Anderson, Gov. Dunleavy's Press Secretary Matt Shuckerow, and Don Young's current Press Secretary Zack Brown. All three have worked in communications for Congressman Young. We spotted Kevin Sweeney, Mayor George Wuerch, Jennifer Atwood, John Carman, Judy Brady …
… David Gottstein, Rep. Delena Johnson, Keith Comstock, Paulo and Josiane Ballin …
Organizers were were not yet able to release a total, but said over $70,000 was raised, and they were still counting.