Dennis Prager, founder of Prager University (PragerU), host of a nationally syndicated talk show and podcast, author of several books, and highly sought-after conservative speaker, packed the house at the Hotel Captain Cook in Anchorage on Saturday evening. The hotel said it was the largest event held at the hotel since the Covid lockdowns started in 2020.
To a banquet room full of over 550 people attending to support the work of the Alaska Family Council, Prager said one of the most pressing issues in the nation today is that the Left is in control of schools and universities, and is using those platforms to drive a wedge between parents and their children.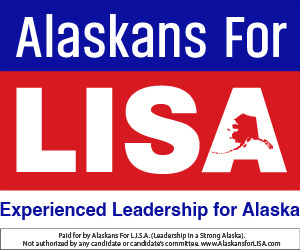 He said that across the nation, parents tell him they know of other parents whose children will not speak to them because they voted for Donald Trump for president. He also hears from parents themselves who say their children have pushed them out of their lives. And he said that it's the stated mission of at least some institutions of higher learning, such as Brown University and his alma mater Columbia University, to separate students from the values of their parents.
Prager gave a similar, albeit more spiritually laced message on Friday evening at the Alaska Jewish Center in Anchorage, to about 100 people, about half them Jewish, the other half Christian. On Sunday afternoon, he will speak at Anchorage Baptist Temple, where over 300 people have already purchased tickets. The event starts at 4 pm and tickets, $75, are available at the door.
Prager implored the audience in Anchorage to tell their children and grandchildren, "I care more about your character than I do about your grades." And he said parents should consider homeschooling their children at this point, because public schools are creating what he calls an epidemic of children who have essentially dismissed their parents from their lives, something that is contrary to Judeo-Christian foundations.
PragerU is the most viewed conservative video site in the world, with one billion views a year, more than half by people under the age of 35. Dennis Prager is a New York Times bestselling author of nine books on subjects as varied as religion, happiness, morality, the left, Islamism, and America. He is a life-long theologian. His book, The Rational Bible, is the first volume of his five-volume commentary on the first five books of the Bible – rooted in his extensive knowledge of biblical Hebrew. It is currently the bestselling Bible commentary in America, and at publication was the #1 bestselling non-fiction book in the United States. His next book on Deuteronomy has already received an order by Costco of 35,000 copies, he said. It will be released in October.
This was Prager's fourth visit to Alaska.