Sunday, the government changes the official time, as it does twice a year, and Alaskans will move their clocks ahead by one hour to be on Daylight Saving Time until Nov. 6, when time moves back an hour to Standard Time. The changeover officially takes place at 2 am Sunday. For those who get up at 7 am, it will feel like 6 am.
Every Spring there are complaints from those who find it hard to make the switch to an hour earlier than usual. They also don't like that it's suddenly dark once again when they get up. On the flip side, evenings will feel longer, with sunset an hour later than on Saturday. In Anchorage, civil twilight is ending at about 8:40 pm this weekend, and by March 31, civil twilight will be 9:25 pm.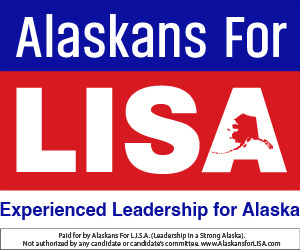 Under federal law, states are allowed to opt out of Daylight Saving Time and remain on Standard Time, but are not allowed to remain on Daylight Time. Alaska lawmakers occasionally have tried to maintain a time standard, but bills have failed to progress.
In 2021, Rep. Daniel Ortiz of Ketchikan introduced House Bill 31 to recognize daylight saving year-round if Congress makes the move by 2030.
In 2021, lawmakers in Congress once again proposed staying on Daylight Saving Time year-round with the Sunshine Protection Act. It was sponsored by Florida Sen. Marco Rubio and Florida Congressman Vern Buchanan. Rubio has long advocating that Congress "lock the clock" and filed legislation for the last four years to end the twice-annual changing of time.
"We Americans are about to suffer another ridiculous time change as we spring forward this weekend," Rubio said in a video. "Switching in and out of Daylight Saving Time is outdated, and is only a source of annoyance and confusion." He added it is time to "put all this stupidity behind us."
Several states are proposing moving to Daylight Saving Time permanently, including:
In 2021, Alabama passed an act that would put the state on permanent Daylight Saving Time if the Sunshine Protection Act passes.
Arizona and Hawaii do not observe Daylight saving time. Arizona observes Mountain Standard Time all year.
The Navajo Nation in the northeastern Arizona observes Daylight Saving Time, putting it an hour off the rest of the state for part of the year.
In 2018, Florida was the first state to pass a resolution to observe Daylight Saving Time year-round, if federal law changes.
In 2021, Georgia passed a permanent Daylight Saving Time law, pending changes in federal law.
Idaho has two time zones; the southern part of the state is in Mountain Time, and the panhandle in the north is in Pacific Time. In 2020, the Legislature and governor passed a law that says if Washington state makes Daylight Saving Time permanent, Northern Idaho will do so as well.
Oregon also has two time zones. A state law passed in 2019 would keep Oregon on Daylight Saving Time if Congress ever acts. But Malheur County in Eastern Oregon is on Mountain Time, and would be the only part of the state not moving to DST.
Washington state approved the change to permanent Daylight Savings Time in 2019, pending on congressional action.
Wyoming's legislature decided 2020 to move to Daylight Saving Time, if approved by Congress — and also if nearby states of Colorado, Idaho, Montana, Nebraska, North Dakota, South Dakota, and Utah also made the move.
Fewer than 40 percent of the countries in the world move to Daylight Saving Time, and not all countries that do change their clocks do so on the same day. Where it makes the most difference is with those further from the Equator, while those living close to the Equator might not notice much change.