By DAN FAGAN
If you live in Anchorage and it seems like things are getting more expensive, it's not your imagination.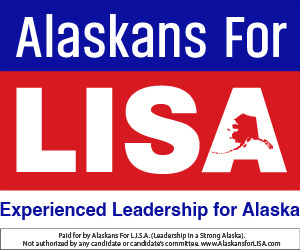 Inflation is expanding faster in Anchorage than the waistline of a customer piling on extra helpings at the Golden Corral buffet. 
According to the U.S. Bureau of Labor Statistics, the price of consumer goods rose in Anchorage in the past year more than they have in 30 years. They're up almost a full percentage point over the national average. 
When the villain currently occupying the White House ran for president, he promised no new taxes for those earning under $400,000.
But as Biden and his special interest catering swamp creatures continue to spend at unprecedented levels and then print money, the value of the dollar you earn shrinks. It's a hidden tax.
Biden ironically campaigned as a champion for the little guy, and yet his highest-in-30-year inflation explosion hits the poorest the hardest. 
It will cost you an additional 42% to fill your gas tank in Anchorage than it did a year ago. For a low-wage earner working in Anchorage's service industry, that's a devastating blow to a monthly budget.  
It is now considerably more expensive to get around in Anchorage than it was this time last year. Transportation costs overall are up 27%.
If you need to buy a car in Anchorage, you'll really feel the pain of the Biden-induced inflation. The cost of used vehicles in Anchorage skyrocketed 47% in the past year. 
The price of meats, chicken, fish, and eggs rose more than 7% in Anchorage in the past 12 months.
Overall, the cost of buying all things in Anchorage shot up an average of 6.2% in the last year.
"The 6.2% is the highest we've seen since 1990, over 30 years ago. It's pretty significant," said Neal Fried, economist with the Alaska Department of Labor.
China Joe Biden, like most Democrats, is laser focused on destroying the private sector and growing government dependents. This is how they will usher in a government-controlled, socialist-based economy where they can punish the successful and reward the lazy by redistributing wealth. They do it all in the name of equality. 
Hyperinflation caused by out-of-control government spending is one of the fastest ways to kill a capitalist-based, free-market oriented economy.
"As Joe Biden's inflation crisis rages, he just can't stop fueling it with more reckless government spending, " said Republican Florida Sen. Rick Scott. 
"On the same day that the consumer price index report showed that inflation has grown every month under Biden's presidency, Democrats are out with a new plan for a $4.1 trillion spending spree," Scott said.
Biden's assault on Alaskans' paychecks through hyperinflation is bad enough. Then he launched an all-out war on the state's resource development economy by appointing rabid anti-oil and gas zealot Deb Haaland as Secretary of the Interior. An appointment oddly enough approved by Alaska's two senators, Lisa Murkowski and Dan Sullivan. 
One of Haaland's first act as secretary was to shut down all activity in ANWR. Haaland then closed off development on 28 million acres of federal land in Alaska.
Unlike Murkowski and Sullivan, Republican Gov. Mike Dunleavy fought back and sued Haaland and the federal government over the move.
"This is a methodical effort by the Biden administration – more than just the bureaucratic foot dragging to leave these lands locked up as de facto parks," said Dunleavy. "This is another federal attempt to deny Alaska the full realization as a state promised under our Statehood Compact, and it should not stand."
Dunleavy has been very vocal in criticizing Biden's anti-Alaska ways. He hit back hard after China Joe recently ended the federal government's exemption for Alaska to the roadless rule, a move that will end any potential revitalization of Southeast Alaska's timber industry. 
"The Forest Service has already conducted a thorough analysis and determined that an Alaska-specific exemption from one-size- fits-all roadless rule was fully justified," said Dunleavy. "Narrow election results and political donations from environmental groups do not justify this federal agency policy flip flop."
It's important to note we went from one of the most pro-Alaska presidents in history with Donald Trump, to China Joe Biden. The cost to Alaskans of this dramatic change in the White House is considerable and growing each day. 
Dan Fagan hosts the number one rated talk show in Alaska weekday mornings on Newsradio 650 KENI.