A jump in cases in the past 24 hours brought the total cases of COVID-19 in Alaska to 213. On Monday, only six new cases had been reported, but also there had been a slight drop in testing. Today's number is one of the largest reported since the first case of COVID-19 was diagnosed in Alaska on March 12.
No additional hospitalizations were reported in the past 24 hours; that number still stands at 23 — and some of those have been released from the hospital. No additional deaths due to the Wuhan coronavirus were reported since the ones announced over the weekend. The total of COVID-19- related deaths in Alaska is still six.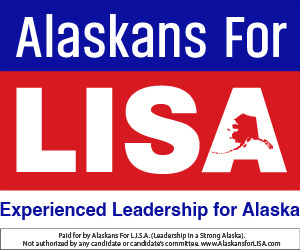 Alaska, as of April 6, had the smallest number of COVID-19 cases in the nation, followed by Wyoming.
The new cases are mainly in Anchorage and Fairbanks, but the Bethel area has reported its first diagnosis.
The current count:
Anchorage area: 98, a gain of 10
Kenai Peninsula: 13, no change
Fairbanks/North Pole: 65, a gain of 11
Southeast Fairbanks Census Area: 1, no change
Yukon-Koyukuk Census Area: 1, no change.
Palmer/Wasilla: 4, no change
Juneau: 14, no change
Ketchikan: 14, no change
Petersburg: 2, no change
Bethel Census Area: 1, first case reported
Across Alaska, 6,913 Alaskans have been tested for COVID-19, less than one percent of the population.