By CLAY KOPLIN
While it is somewhat unusual for an Alaska mayor to write an opinion piece, I have been consistent in sharing my views on fisheries, Cordova's single largest economic driver. I'm always striving to represent the opinions and needs of my community, even in rare cases where they may diverge somewhat from my own.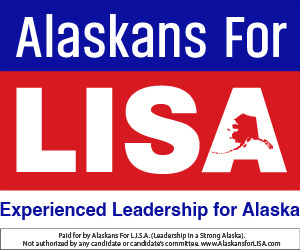 I point to such pieces as "Salmon for All" in support of a responsibly managed hatchery system. I have repeated my common themes of the importance of access to fisheries resources to all user groups, of environmental protections of our ocean and coastal watersheds, of science-based management, and of providing adequate management funding resources to our Alaska Department of Fish and Game.
This very week Cordova will experience the first live king crab crossing her docks in almost 40 years; a testament to collaborative work between Cordova fishermen, the Alaska Department of Fish and Game, and the governor's fisheries advisors.
What I have not shared is my deep concerns over the existential threats to our oceans and way of life, but perhaps a few reminders are in order this week, and my opinions regarding these are my own based upon my observations.
While Alaska is famous for fish politics, I have trusted Laine Welch and Fish Factor to be an objective, non-partisan source of important fisheries news and legislation for much of my 49 years as a coastal Alaskan. 
The Oct. 24 Cordova Times article entitled "Vote for Healthy Oceans and Thriving Coastal Communities" was a narrow, if not targeted, view of ocean threats.  
Laine's column does a disservice to her readership by blatantly ignoring the largely bipartisan efforts to protect ecology and economy that misses many critical elements that she herself has brought to our attention in previous articles and radio programs. But we weren't a week away from an election at those times.
So, a few reminders of some of the threats our oceans and fisheries face and what our Congressional delegation has done to address those threats. One of our clear and present ocean dangers is ocean trash, particularly plastics. I was elated during Don Young's September visit to Cordova when he shared one of his enthusiastic dreams of repurposing retired US Aircraft Carriers into front-loading salvagers of ocean waste for recycling on board. This would tackle the blob of trash the size of Texas riding our oceans.
The "Save our Seas Act" or SOS legislation, was introduced by Senators Whitehouse, a Democrat from Rhode Island, and Sullivan, and Alaska Republican, and signed by President Donald Trump as a bi-partisan effort to reauthorize NOAA's marine debris program.
This year, Senator Sullivan again championed the Save our Seas 2.0 Act – the most comprehensive ocean debris cleanup to ever pass the Senate, and recently passed by the House.  
As for partisanship, Sullivan was ranked by the Lugar Center at Georgetown University's McCourt School of Public Policy as the 14th most bipartisan Senator in the U.S. Senate. Sullivan voting with Trump 97 percent of the time is not an all-encompassing rating or ranking of the senator's six-year voting record.   
Further, as a first term senator, Sullivan was ranked by Cornelius Vanderbilt Professor of Political Science Alan Wiseman, as the 8th most bipartisan Republican senator – right behind our own Senator Lisa Murkowski. And on the House side, our own Congressman Don Young is ranked as the first most bipartisan Republican representative.   
The threat of mining, perhaps none more so that Pebble, poses risks to critical Alaskan fisheries. It has been clear to me that Senator Sullivan supports the process – not a fast-tracked process that is politically expedient but rather a process that is fair, consistent, and transparent.
When the U.S. Army Corps of Engineers released their findings that the Pebble mine could not meet the high threshold to be permitted the Senator came out against Pebble stating that the process had run its course and he trusts the Corp's findings.
His statement came out on Aug. 24 almost a full month before the "Pebble Tapes" were released. Senator Sullivan took a lot of flak for following the process – I commend him for his true leadership on that.   
Senator Sullivan has also been a champion for our Southeast communities fighting the issue of transboundary mine pollution. Sen. Sullivan, Sen. Murkowski, and delegations from other Canadian border states have worked together with the Canadian government to protect our waters, fisheries, and communities.
As Laine's article points out, the other Canadian concern is the pipelining of Russian/China halibut through trade paths, dodging tariffs into the US Markets to the detriment of Alaskan Fisheries.
Is it any wonder that until these trade issues are resolved opportunities like cheaper Canadian pharmaceuticals might take a back shelf? Sullivan's assistance on tariff protections included $250 million of exclusions for salmon-specific tariff lines, as the Trump Administration seeks to balance trade deficits with foreign competitors.
The recent pandemic has introduced an even stronger market headwind than trade programs. Thanks to our delegation, recent "Buy American" provisions in our school lunch programs further assist in balancing trade and improving the market prices for Alaskan fishermen.
Russia and China, however, pose perhaps an even larger threat to Alaska fishermen, illegal global fishing. The recent illegal Chinese take of chum salmon and Russian fleet interference with Aleutian chain fisheries are impacting our own waters.
The bipartisan congressional efforts, supported by Senator Sullivan, to address illegal fishing and Coast Guard authorization for enforcement, is helping to address these threats.
Speaking of the Coast Guard, in his six years in office, Senator Sullivan has secured over $400 million in funding to strengthen Alaska's Coast Guard to protect our fisherman, fisheries and our waters.
Finally, much closer to home during the pandemic season, Senator Sullivan worked directly with President Trump and Gov. Mike Dunleavy to emphasize the risks to our fishing industries and communities to provide the testing and resources to execute a successful season against stiff odds. The chief medical officer for homeland security, Dr. Alexander Eastman, visited Cordova with Dr. Anne Zink and other State of Alaska health officials to offer their assistance and guidance (and learn from our own, effective measures in Cordova) for our first large salmon fishery in the State. We wanted to avoid outbreaks and protect our remote Alaskan communities with limited medical resources.
I mark Cordova as a success, and from discussions with mayors and processors up and down the coast and in State calls, the rest of the state was successfully protected as well.
These multiple threats are important for all Alaskans of any political affiliation, and it will be important for all of us to work together to confront them, and I know that Senator Sullivan has taken a bipartisan approach to do this.
With over 94 percent of our nation's seafood being imported and as one of our country's top five trade imbalances now that we are energy secure, there is plenty of room for strong economic support for Alaskan fisheries right here in our gargantuan US consumer market. We have been, and will continue to be, in this together.
I would encourage the press to remember this and to continue to focus on fish business rather than fish politics so that we can continue to trust their objectivity and perspective in the future.
Respectfully, Clay Koplin, Citizen, Cordova
Clay Koplin worked summer seasons as a cannery laborer and machinist while pursuing his electrical engineering degree, commercially long lined, and avidly participated in sports, subsistence, and personal use fisheries in the communities of Kenai, Kodiak, and Cordova. His career passion has been the transition of coastal Alaskan electricity to affordable, reliable, and renewably sourced systems to support the economies of fishing communities.