By KEVIN CLARKSON
You may know it as the "Golden Rule." Some will recognize it as the words of Christ: "Do unto others as you would have others do unto you." I prefer this translation — "And just as you want people to treat you, treat them in the same way." Foundational to this rule is the concept of choosing respect for, and practicing common decency toward others around us.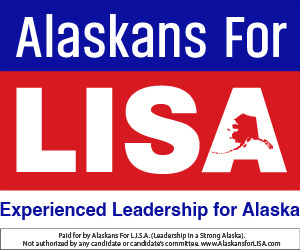 Former Gov. Sean Parnell and then-attorney general, U.S. Sen. Dan Sullivan championed a campaign to convince Alaska men and boys that "Real Alaska Men Choose Respect" in their treatment of women.
With Gov. Michael Dunleavy's blessing and participation, partnering with other commissioners and departments, I plan to pick up this mantle and work to advance it further.
Real Alaska men should not only choose respect, they should practice it.
Sadly, we have our work cut out for us and we have nothing to be proud of in this area. According to a 2015 Alaska Victimization Survey, 50 percent of adult Alaska women have experienced intimate partner violence, sexual violence or both during their lifetimes. A 2014 Violence Policy Center study ranked Alaska first in the nation for the rate of homicide of female victims by male attackers. Alaska's rate in this regard is more than three times the national average. And, in terms of sexual assault and domestic violence, the news is just as bad — Alaska ranks No. 1 per capita.
A 2017 Crime in Alaska Supplemental Report by the Alaska Department of Public Safety reflects that the number of sex offense victims increased by 27 percent in one year. The scourge of sexual violence permeates our entire state, but in Western Alaska, the rate of felony-level sex offense incidents is 106% higher than the statewide rate.
The largest brunt of these crimes falls upon our Alaska Native women. Alaska Native females have the highest sexual assault victimization rate of any gender or racial group — 42% of all reported victims are Alaska Native females. But the picture just gets worse when you consider the age of most victims. Statewide, the median age of female sexual assault victims is 19, and the most common age is 15. In Western Alaska the most common age of a victim is 13 and in Southcentral Alaska it is just 12 years old.
Who is it that is assaulting Alaska's women? Well, this is another blemish on our state. Our young women, most of them Alaska Native, are being assaulted by men who they knew — in only 2.4% of incidents was the offender a stranger to the victim. This means that 97.6% of the time, the young woman who was assaulted knew the man who assaulted her. And in 59% of incidents, those young women are assaulted by a man of their own race.
Truly, the sexual assault problem that we face crosses all races. Statewide, we have an enormous need for men to choose and practice respect for women. We need respected men from all corners of our state representing the diversity of our state — white, African American, Alaska Native, Asian, Hispanic and more, to step forward and help lead the way to make significant headway changing hearts and minds of men all across our state, but especially in Anchorage and western Alaska where the rates of sexual assault are the highest.
We cannot afford to allow this situation to continue. The cost of domestic and sexual violence on both individuals and society is enormous. The toll on the hearts, minds and bodies of Alaska women is incalculable. But, there are economic costs as well. Economic costs fall into five main categories: medical care for physical injuries and mental health care; lost productivity; lost lifetime earnings; costs of law enforcement; and the cost of our courts.
For my part, I will start by encouraging Alaska attorneys, including those in the Department of Law, to step up and provide pro bono legal representation to indigent women who suffer sexual assault and domestic violence. I will host pro bono service clinics for Alaska attorneys to make themselves available to assist victims, I will encourage Department of Law attorneys to volunteer to man the ANDVSA sexual assault and domestic violence hotline, and I will increase the number of pro bono cases that state attorneys can handle for victims.
Lastly, I pledge that this will not be the one and only time you will hear from me on this topic. I will make my voice a drumbeat to try to drive change in this area. We have to do better. I hope you'll join me.
Kevin Clarkson is the Attorney General of Alaska.