HOW TO MOVE A CAPITAL: ONE HEARING AT A TIME
The House Majority, led by Democrats and eight moderate Republicans, has done something no legislator from Wasilla has ever been able to do: Move the actual legislative sessions outside of Juneau during regular session.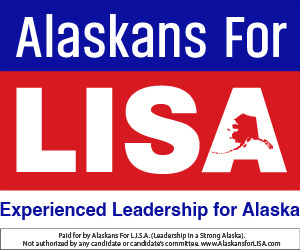 Former Eagle River  Sen. Randy Phillips, who fought for a decade to move the capital out of Juneau, would be proud.
What's more, the House Majority has been able to move these precedent-setting sessions without a peep from the usually very strident capital defenders in Juneau — not a word of objection has come from city leaders, and not from the three legislators who represent Juneau.
Is this development a sign of things to come for Juneau?
The co-chairs of House Finance have scheduled and will sponsor the following official hearings on the Permanent Fund dividend and the state budget:
JUNEAU – CAPITOL BUILDING ROOM 519
Friday, March 22, 5-8 pm
KETCHIKAN – LOCATION TBD
Saturday, March 23, noon-3 PM
LOCATION TO BE ANNOUNCED
BETHEL – LOCATION TBD
Saturday, March 23, 2-5 PM
MAT-SU BOROUGH – MATSU LIO, 600 E. RAILROAD AVE., WASILLA
Saturday, March 23, 2-5 PM
SOLDOTNA – SPORTS CENTER, 538 ARENA AVE.,
Saturday, March 23, 2-5 PM
ANCHORAGE – ANCHORAGE LIO, 1500 W. BENSON BLVD.
Sunday, March 24, 2-5 PM
SITKA – LOCATION TBD
Sunday, March 24, 2-5 PM
FAIRBANKS -FAIRBANKS LIO, 1292 SADLER WAY, SUITE 308
Sunday, March 24, 2-5 PM
Legislative special sessions and hearings outside of the normal 90-120 days have been held in Anchorage in the past, over the strong objection of Juneau. And Juneau has fought hard for decades to keep the regular session in the capital city, arguing that it was more cost efficient than moving hearings around the state.
As they do every year, legislators have held town hall meetings in their local communities, which were widely reported in the press. Now, they are spending tens of thousands of dollars to hold actual official hearings in these same communities, poking the camel's nose a few more inches under the tent.
No objection has been raised by Juneau's three representatives, Sen. Jesse Kiehl, Rep. Sara Hannon, and Rep. Andi Story. All are Democrats. Apparently, a road show designed to whip up public support for higher budgets is more important to the Juneau delegation than defending their capital from creeping incrementalism.
How these official hearings will be staffed and documented is still unknown. 360north.org will not be able to livestream them for the rest of Alaska. The local media in the various communities will likely be the only source of information for the official proceedings of the House of Representatives.
If they can do it this year, then they can do it every year. Juneau has a lot to think about as the hearings take place elsewhere, starting Saturday.  A voter initiative is now being considered to move the legislative sessions, and these hearings could put wind in the sails of the capital move advocates.