BEKAH HALAT CAMPAIGN IN PERIL AS DOCUMENTS SURFACE?
Bekah Halat, a first-time candidate running against Rep. Chris Birch for Senate Seat M (South Anchorage hillside), and her husband have been accused by the State of Alaska of food stamp fraud.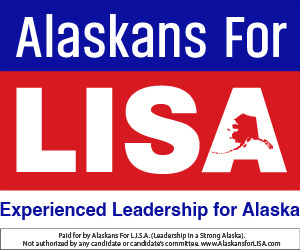 The State's complaint is on two counts: The first is a Class C felony for theft of $750 to $24,999. The second is a Class A misdemeanor for misrepresenting the family's income, according to court documents sent to Must Read Alaska. A search of online cases at CourtView confirmed the charges.
Halat's husband, Jarek, is named in the complaint with the same charges. Their arraignment is Aug. 24, three days after the Primary election. That's when they'll plead guilty or not guilty.
Noteworthy in the State of Alaska's complaint is that Bekah Halat "is running in the Republican primary."
Why the State Department of Law finds it important to identify the party affiliation of the accused raises the question of this having been an accelerated interest to the state, or even a witch hunt.
But the accusation draws startling conclusions that bring her continued candidacy into doubt. She will, regardless, appear on the Aug. 21 ballot for the seat that is being vacated by Sen. Kevin Meyer, who is a candidate for lieutenant governor.
Bekah Halat has not returned messages to explain whether it's a mix up, or whether she is the subject of false accusations by the State. She has not yet said if she is going to suspend her candidacy and focus on repairing her personal situation.
But it's clear she has known about the pending legal action against her, since she has been interviewed by investigators in July.
The entire complaint is linked here:
At the same time she was being interviewed by State of Alaska fraud investigators, a story and photo spread about her appeared in the Anchorage Press ,declaring her a new kind of Republican, not the "old white guy" type.
According to the State's accusation, the Halats applied for the SNAP (food stamp) program in 2017. They had to go through an income certification process to determine if they were low income enough to qualify.
The maximum resource/asset limit for a family of four to qualify is $2,250, after Division of Public Assistance's allowable deductions. The Halats' were approved on March 2, 2017 and received $622 per month in food stamps for the household in 2017.
Their food stamp eligibility was based on having no income at all, and the State complaint says they would need to inform the division when Jarek's unemployment benefits started. Jarek signed a document stating he understood, under penalty of perjury. It is not clear that Bekah signed the document. Applicants must sign a document stating they understand that if they provide misleading or false information, they could be criminally prosecuted.
For 2017, they received $7,374 in food stamps.
The couple had to be recertified in January, 2018. By then, Jarek was making $836 in unemployment insurance benefits and Bekah was working 15 hours a week, earning $20 an hour.
They were approved on Feb. 1, 2018. During the approval process, Jarek mentioned he was no longer working for Uber and Lyft as a driver. The State is saying that is the first time he had mentioned to the Division of Public Assistance that he had any income.
In 2018, the two received $2,296 in food stamps, from April through June, according to the State's accusation.
Bekah Halat filed to run for Senate on May 31, 2018, announcing her candidacy on Facebook, launching a web site and quickly printing signs and t-shirts. Her signature issue was to repeal the "soft on crime" bill, Senate Bill 91. By then, her family had been awarded food stamps for over a year.
On June 20, 2018, an anonymous caller to the Fraud Control Division of the State's Division of Public Assistance reported that Bekah had filed for office, was on assistance, and yet appeared to have sufficient income, and that the couple was committing welfare fraud.
The State opened an investigation immediately and did a deep dive into the Halats' finances and bank accounts. The investigator examined her business licenses with the State and Jarek's income stream.
Further, once the investigator reviewed Bekah's campaign page, he noted that she had a campaign bank account at Alaska USA Federal Credit Union, but on the Halats' SNAP application, they only listed one at Wells Fargo. The investigator found that they had four Wells Fargo bank accounts, and upon looking into matters at Alaska USA, he discovered the couple had other bank accounts, and they also had some small certificates of deposits.
The State is claiming that during the entire time the family was on SNAP benefits, they were ineligible, due to being above the income threshold.
Must Read Alaska reached out to Bekah Halat but did not receive a return call.
Halat's file at the Division of Elections shows she has lived in Anchorage since 2005. She has a B.A. in political science from the University of Alaska Anchorage, with a theater minor. She owns Bekah's Dance Expressions, Super Beans and founded a nonprofit called Empowered Arts Alaska. She works at Business Boutique Training Center as the events and office coordinator, business trainer, and is a professional singer and songwriter, according to her file.
The State's action is complaint, and comes with a felony charge, but it doesn't represent guilt. Cases such as this are often pleaded down to lesser charges, but cases like this are also not usually laced with political intrigue.