They're true believers in the gasline. Former Gov. Bill Walker and former Alaska Gasline Development Corporation President Keith Meyer are leading an effort to take over the Alaska Gasline project from Alaska Gasline Development Corporation.
They announced the launch of Alaska Gasline & LNG LLC, at AGLNG.com today, along with Laborers Local 341 President Joey Merrick, and Bernie Karl, who serves on the board of the Alaska Industrial Development and Export Authority.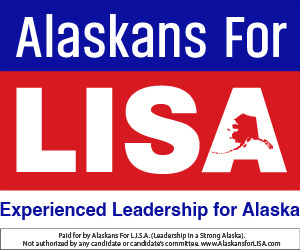 The group have established the new private entity with the purpose of "requesting and accepting the leadership of the integrated Alaska gasline and LNG project, and moving the project forward to completion."
The project has recently completed most of its big federal permits and the Alaska Gasline Development Corporation wants to return it to private hands.
Walker would be those private hands. Under his direction as governor, however, he nationalized the project and drove out the private sector partners. Now, he is willing to take the project on as a private entity.
The group says "AGLNG will undertake the mission of putting the Alaska gasline and LNG export project in service, to the benefit of all Alaskans, and with a specific goal of being in-service by March, 2028, which will be the 60th anniversary of the discovery of the Prudhoe Bay field, North America's largest oil and gas field."
The project is projected to cost between $40 billion and $60 billion to build, and it's clear the principals of the new entity don't have that cash on hand. As governor, Walker tried to sell off major portions of the project to the Chinese.
Perhaps a new Biden Administration would fund the group? That may be one of the strategies to put together the aggressive funding and construction schedule needed to bring gas online in less than eight years.
This story will be updated.