HAY BALES, MINIONS, AND A WHOLE LOT OF LAUGHS
If there was a better politically themed float in a Fourth of July parade this year in Alaska, we'd like to see it.
Until then, we give Lynn Gattis for State Senate the blue ribbon. Her float came with fresh hay bales that she mowed and baled herself at her Point MacKenzie farm, where she and her husband Rick have 600 acres under cultivation.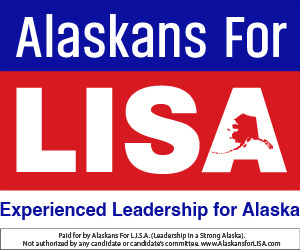 Decorations included old lawnmower tires for eyes on the minion-themed bales, and a spray-painted tin tub for a pig's nose. There was duct tape involved, too, she said, because she doesn't spray paint the bales. The National Rifle Association endorsement signs were gilding the lily.
Gattis is the only farmer-legislator in Alaska, and the only one since Harley Olberg, a "seed grower" from Delta Junction, Jay Kerttula, and Pat Carney, businessman-farmers from Mat-Su, all served in the mid-90s.
Gattis often posts to Facebook the videos she takes as she mows and rakes the hay, which gets harvested just once a year. The video gives viewers an operator's eye view of crop farming in Alaska.
"It's not like regular mowing," she said. "We have a mower and conditioner, which flattens each blade, so it dries faster, then it flings it up in the air. We leave it in the field for five days to dry, and then we rake it, bale it, spear it into trucks and drive it to our barns." All of that happens on schedule if there's no rain during the harvest.
Each bale is about 1,000 pounds, and the Gattis farm might get 1,000 bales per harvest for 1 million pounds of hay, more weight than a fully loaded Boeing 747.
The Gattis' have had hay under cultivation since 1984 — 22 years. If Lynn is not available to work on the farm during growing season, she and Rick hire helpers.
Rep. Gattis is running for the Senate seat being vacated by Sen. Charlie Huggins of Wasilla.