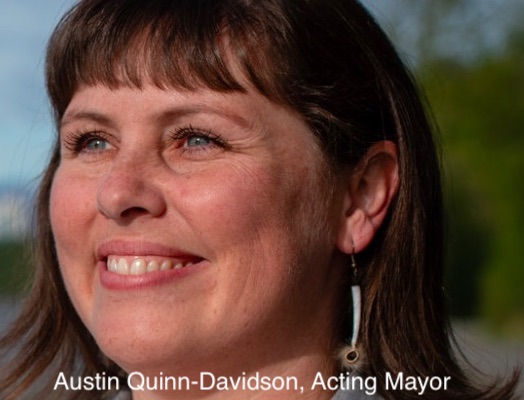 Anchorage's Acting Mayor Austin Quinn-Davidson has come down with COVID-19.
She said she started feeling under the weather last Sunday and took three tests over the week; the first two were negative but the one she took on Saturday came back positive, according to her statement.
She is experiencing mild symptoms.
"It's so important to stay home and to get tested if you aren't feeling well," said Acting Mayor Quinn-Davidson. "I'm grateful my symptoms are mild and thankful for the many free testing sites in Anchorage. I will continue to isolate at home as directed by my health care provider." 
Her wife, Stephanie Quinn-Davidson, has tested negative and is not experiencing symptoms. 
To find a free COVID-19 testing location, visit anchoragecovidtest.org.  
Quinn-Davidson has been an advocate for masks and has mandated them throughout the municipality. She wears one religiously.
There's no word as to what this means for the Anchorage Assembly, which meets in joint session with the Anchorage School Board on Monday and in a regular Assembly meeting on Tuesday, during which it is scheduled to vote on Quinn-Davidson's choice for the new city manager.
Rudy Giuliani, the attorney for President Donald Trump, typically does not wear a mask and has also come down with COVID, and was admitted to  Georgetown University Medical Center on Sunday for treatment.