Anchorage Assemblyman Chris Constant has a surprise item for Tuesday's 5 pm Anchorage Assembly meeting: An ordinance that would allow an unelected mayor — such as former unelected Mayor Austin Quinn-Davidson — to serve for about 300 days before an elected mayor could take office.
Usual observers of Anchorage Assembly meetings might not have seen this particular ordinance, as it was submitted for the agenda at the last minute as a "laid on the table" item.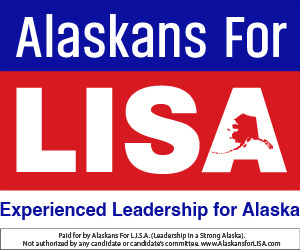 Under Roberts Rules of Order, a "laid on the table" item is something that is "less about the business being discussed than about the assembly needing to handle something else immediately."
In reality, the leftist members of the Anchorage Assembly use the "laid on the table" procedure to sneak things onto the agenda that they do not want the public to know about in advance.
The 270 days would be the outside limit for when an election would have to be held in the event that a mayor ascended through appointment rather than an election.
The background on this involves the leftists on the Assembly. In October of 2020, former Democrat Mayor Ethan Berkowitz resigned in the midst of a salacious scandal. At the time, Democrat Austin Quinn-Davidson was chair of the Assembly and she rose to power, and held onto the mayor's seat for eight months. She and other leftists on the Assembly refused to hold a special election for mayor.
The 270-day limit on an election would not include a runoff, or waiting for all ballots to arrive by mail, and would not include the 30 day training period, all of which could stretch an unelected mayor's term for more than 300 days.
During Quinn-Davidson's term, she hired a chief equity officer for the city, who was then fired by the elected mayor, and has cost the city over $120,000 in settlement fees.
Assemblywoman Crystal Kennedy and Assemblyman John Weddleton had already placed a proposal on the agenda that made the election deadline no more than six months, or 182 days. This was a proposal that was discussed in work sessions last week and would allow an unelected acting mayor to serve for up to eight months before an elected mayor could take over, once all the factors are considered, such as ballot deadlines and training periods.
Constant has mentioned the possibility of recalling Mayor Dave Bronson, and has told constituents that it is his mission to show the mayor's administration as a "lawless gang." If he proceeded with a recall and was successful, Democrat Assembly Chair Suzanne LaFrance could be the unelected mayor for more than 300 days.
The "laid on the table" ordinance from Constant is at this link: