The Alaska Republican Party officers today unanimously endorsed Gov. Mike Dunleavy for a second term.
There was no consideration of Republican House Rep. Chris Kurka, who has challenged Dunleavy. No one among the party's leadership made a motion to offer Kurka for an endorsement.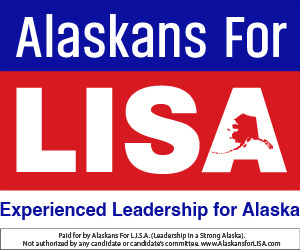 The nomination for Dunleavy's endorsement was made by Ron Johnson, who is region representative for Region 2, the Mat-Su. Cynthia Henry of Fairbanks, who is the party's National Committeewoman, seconded the motion.
Dunleavy appeared at the party's quarterly meeting, held in Juneau to thank the party for its endorsement. Attending were over 50 members of the party, representing districts from Ketchikan to Barrow. Dunleavy, in his remarks, reminded the room that it's been 44 years since the state has elected a Republican governor to a second term. And he thanked the party for its endorsement, and for Republicans and their efforts on behalf of the state.
Dunleavy told the room that he became involved in politics as a Mat-Su Borough school board member, before being elected to the Legislature just 10 years ago. He assumed office as governor on Dec. 3, 2018.