The Alaska Democratic Party has made its endorsements for local Anchorage elections. They are the candidates you'd expect for Democrats: Kameron Perez-Verdia, Forrest Dunbar, Meg Zaletel, and John Weddleton for Assembly, and Margo Bellamy and Kelly Lessens for Anchorage School Board.
In doing so, the Alaska Democratic Party used a secretly produced website that has no "Paid for" disclaimer, as required by the Alaska Public Offices Commission. Who runs the website? That's none of your business. All you need to know is that the Democratic Party, using its newsletter links, endorses what the secret website endorses. APOC rules rarely apply to Democrats.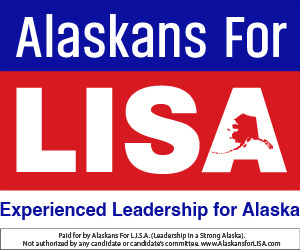 The Democrats are slipping through the campaign laws using the AlaskaBluEvolution, which says it is owned by a person who gets no donations and is not "endorsed by any candidate, candidate's committee, or political party." The proxy website depicts Democrats as a large group of (possibly) men crowded together with their arms in the air, and Republicans as a small group of men standing around wearing "Q" on their t-shirts. All of the endorsements were recently sent to registered Democrats in one of the party's newsletters.
The party's endorsement of Forrest Dunbar, Meg Zaletel, and Kameron Perez-Verdia for Assembly are not surprising. They are Democrats or de facto Democrats.
But Assemblyman John Weddleton? He posits himself as a true nonpartisan, and earlier this month he even attended a meeting of the Young Republicans, where he went maskless — uncharacteristic for the south Anchorage Assemblyman who is mask-vigilant when on the Assembly and in public settings.
Weddleton has consistently donated to Democratic candidates and has never donated to Republican candidates. He supported (former) Sen. Mark Begich for Senate numerous times, and given directly to the Alaska Democratic Party, giving $500 in 2012. As an Assemblyman he has consistently supported property tax increases. He has, on his social media, associated himself with Black Lives Matter and Anchorage Democrats, as well as pro-Palestinian groups.
Weddleton is putting out requests for funds to help him provide "balance" to the Anchorage Assembly.
Running against Weddleton is Randy Sulte, a newcomer to politics, who hopes to replace the Democrats' favored candidate during the April 5 Anchorage municipal election. Sulte has the endorsement of Mayor Dave Bronson.