The Anchorage Daily News has decided that "attendance" is going to be the number one issue in the South Anchorage House District 22 race.
In what appears to be an editorial decision to help a liberal challenger to upend conservative Rep. Sara Rasmussen, the newspaper says attendance is the top issue.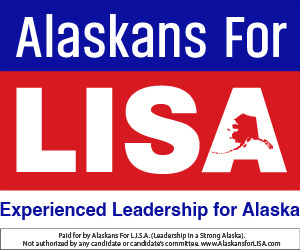 Not budgets. Not Permanent Fund dividend. Not crime. It's attendance during quarantine.
Rasmussen says that COVID-19 rules in place in late March and April prevented her from returning to the Capitol, as she was in quarantine after she had been out of town to attend her great-grandfather's 100th birthday.
The Legislature set forth rules calling call for quarantine for members if they had been Outside the state, but not for in-state travel. Rasmussen had traveled to Utah.
During March and April, the Capital City and much of the state was in lockdown and the entire state was paralyzed by fear of the coronavirus.
"Juneau was freaking out because a single cruise ship was planning to dock there," said one Capitol observer. "The fear in the Capitol building was so great, the public was locked out of the building for the first time in Alaska history."
Rasmussen was caught in limbo — healthy enough to travel, but ordered to stay away.
Stephen Trimble and the groups supporting Trimble say that Rasmussen missed voting on the operating budget.
That's not true, but this is campaign season, so much gets said.
What's more unusual is that the daily newspaper in Anchorage has chosen the attack on a rising star in the Republican side of the House by declaring attendance the issue, yet offering no substantive proof other than the opposing camp says it is.
Readers of the ADN have become accustomed to editorializing in news articles. But this?
"It's non-story. Attendance in a year when students aren't even going to school? Where is the headline on ADN about Hunter Biden and the investigation into money laundering? Where is the headline story about tens of thousands of dollars being spent by the largest and most powerful unions in the state to mislead votes on behalf of Democrat candidates?" said Tuckerman Babcock, former chairman of the Alaska Republican Party.
The headline on the ADN story might have been "Challenger attacks lawmaker for following Legislature's rules." But then, that would be a different newspaper altogether.