It was a rough night for Alaska State House and Senate incumbents on Tuesday, but some races are too close to call and there are still many absentee ballots to be counted.
One takeaway is that the full-PFD message is powerful in Alaska politics. With only $5 billion and change left in the Earnings Reserve Account, the victors will have a very tough time paying the bills this coming year. But Alaskans are angry that the statute was not followed.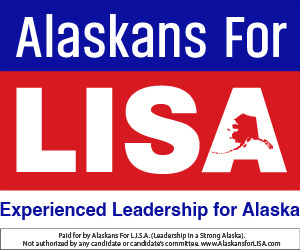 Here are a few results as of 1 am. Check for more stories throughout the day on some of these races:
Winners
Gov. Mike Dunleavy was the big winner as those Republicans worked against his agenda are generally in peril. This matters especially because Dunleavy didn't get involved in this election cycle, except to give some nice remarks about Congressman Don Young at a fundraiser.
Senate Seat D: Sen. David Wilson, R, got by Stephen Wright and several other contenders in Wasilla.

Senate Seat H: Madeleine Gaiser was unopposed on the Republican side, got 1,222 votes, more than Sen. Bill Wielechowski's 1,004, for this East Anchorage seat. She somewhat unknown but could give Bill-Wiel a run for his Big Union money.

Senate Seat M: Sen. Josh Revak, R, 1,653, Borbridge 268, Metcalfe, 636.

Senate Seat N: Roger Holland, R, 2,586, Sen. Cathy Giessel, 1,010.

House District 6: Mike Cronk, R, won with over 1,034 votes. Interior seat being vacated by Rep. Dave Talerico.

House District 7: Chris Kurka, R, won with 1,294, over former Rep. Lynn Gattis, 520.

House District 8: Kevin McCabe, R, won, 1,377, over Rep. Mark Neuman, 809.

House District 9: Rep. George Rauscher, R, won with 1,226 over challenger L.D. Howard, 857.
House District 10: Rep. David Eastman, R, holds the lead 1,129, to Jesse Sumner, 1,050.

House District 13: Ken McCarty, R, won with 510 over Rep. Sharon Jackson, 351.

House District 15: David Nelson, R, won with 407 over Rep. Gabrielle LeDoux, 106.

House District 24: Tom McKay, R, 1,202, over Rep. Chuck Kopp 601. More coverage on this key race later this morning.

House District 25: Rep. Mel Gillis, R, 912, over Benjamin Rodriguez, 203.
House District 27: Rep. Lance Pruitt, R, unopposed, won 1,302 votes, and Liz Snyder, D, received less than half that. They face each other in November.

House District 28: James Kaufman, R, won 1,625 over Rep. Jennifer Johnston, 600.

House District 30: Ron Gillham, R, won with 1,168, with Gary Knopp at 258, and Kelly Wolfe, 474.

House District 36: Leslie Becker, R, unopposed, won 1,103 votes and will face Indie-Dem Dan Ortiz in November. She'll need to increase her turnout to successfully upset him, as in 2018's general election he got 4,256 votes.


Losers

Incumbents in general did poorly. Looks like Sen. Giessel, and Reps. Johnston, Kopp, LeDoux are out, others are in peril.

Alyse Galvin, running for U.S. House, has to be worried. She only received 23,786 votes at last count in her Democrat primary. Congressman Don Young, the Republican, received 36,394. Lots of absentees will close that gap.

Al Gross, D, running for U.S. Senate, only received 22,329 in his primary. U.S. Senator Dan Sullivan went over 45,689, more than double.

Curiosities / Too Close to Call

Senate Seat B: Robb Myers, R, 1,447 holds the lead over Sen. John Coghill, 1,321.

Senate Seat L: Stephen Duplantis is ahead with 1,351, Natasha Von Imhof has 1,266, but likely had a robust absentee ballot chase. Duplantis had a small campaign budget, not likely enough to do an absentee ballot program.

Senate Seat P: John Cox, R, 1,403, holds the lead over Sen. Gary Stevens, 1,334 for this Kodiak-Homer seat.

House District 1: Rep. Bart LeBon, R, won uncontested Republican Primary with 788 votes, but the Democrat votes totaled 778 amongst the two contenders on the D side, so this will again be a squeaker race in November, when LeBon faces Democrat winner Christopher Quist, who won 394 votes.

House District 2: Rep. Steve Thompson, R, holds a slight lead 356 to Dave Selle's 343.
House District 5: Kevin McKinley, R, unopposed, won 914, which is more than his opponent received in his primary. Rep. Adam Wool, D, only Brough in 675, which may worry him going into November.

House District 23: Connie Dougherty, R, won with 441 to Kathy Henslee, 425. Too close to call.

House District 35: Kenny Skaflestad, R, 336, in a tight race with Arthur Martin, 326 for the Republican Primary. The winner takes on Rep. Jonathan Kreiss-Tompkins.